E-Learning

The benefits of e-learning?

cost reduction
greater flexibility
increased effectiveness
bigger individualization

Games

The benefits of a game?

learn in a fun way
to be enriched by the skills of others
assimilate the content of clauses and sub-clauses
be better prepared for the certification

Documents

Documents for your management system?

Are you looking to save time and cut costs?
Why re-invent the wheel?
Promotion of the week

For week 04 the set of documents D 72v16 ISO 13485 version 2016 package is at 65 euros (instead of 129 euros) 
Promotion of the month

For January the course T 37v15 ISO 14001 version 2015 internal audit is with a 50% decrease (from 100 euros to 50 euros)
IATF 16949 v 2016 REQUIREMENTS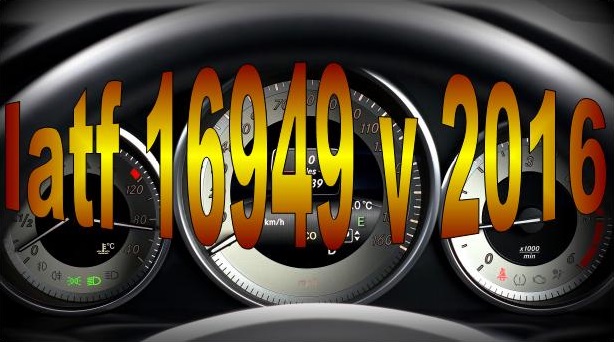 You want to familiarize yourself with the structure of the standard, identify and understand the requirements of IATF 16949 v 2016, then it's up to you to play!

Start
The "IATF 16949 v 2009 Requirements" quiz will help you understand the main requirements of the standard.
The questions (requirements) included in this quiz are 108 of the 511 in the standard, but don't worry. These 108 requirements are among the most important. So do not hesitate to learn in a fun way!
Do not think you can finish this quiz in less than an hour, or even two hours, unless of course you are a little genius!
News about ISO 9001 version 2015
The ISO 9001 v 2015 requirements
Some news about the IATF 16949 v 2016
The course T 15v15 ISO 9001 v 2015 readiness
The course T 35v15 ISO 9001 v 2015 internal audit
The package of courses T 65v15 training package ISO 9001 v 2015 readiness and internal audit
The course T 16v16 IATF 16949 v 2016 readiness and its free demo
The course T 36v16 IATF 16949 v 2016 internal audit and its free demo
The package of courses T 66v16 training package IATF v 2016 readiness and internal audit
Based on ISO 9001 v 2015 the 309 requirements (verb shall) of clauses 4 to 10 are as follows:
Based on IATF 16949 v 2016 the 511 requirements (verb shall) of clauses 4 to 10 are as follows: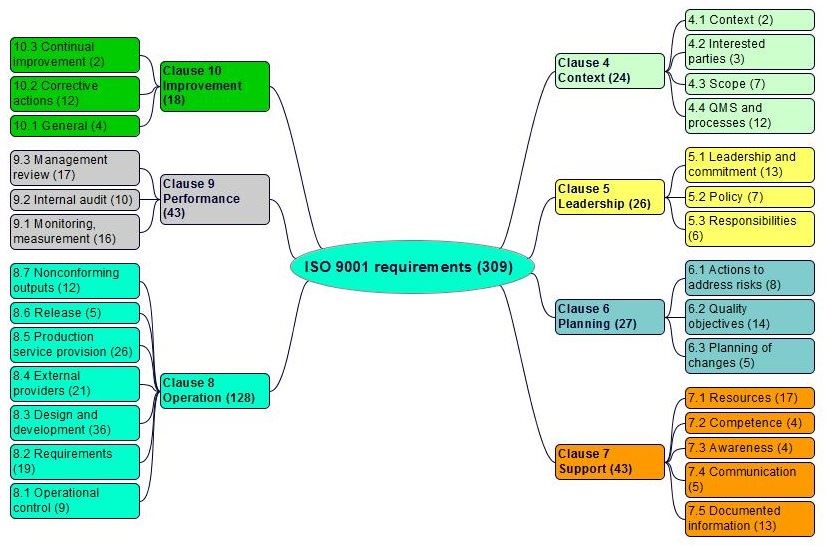 ISO 9001 2015 requirements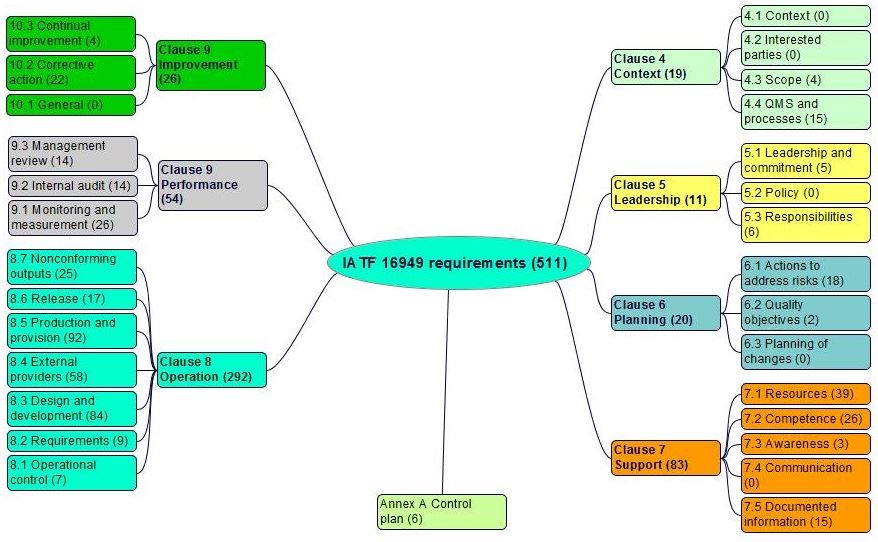 IATF 16949 2016 requirements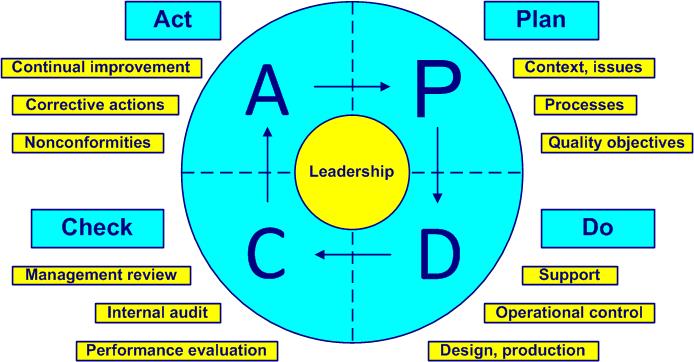 The Deming PDCA cycle
Note 1. Any requirement normally begins with "The organization shall...". For simplicity's sake we present the requirements directly, starting with the verb
Note 2. All 309 ISO 9001 v 2015 requirements are on this page
Note 3. We use external provider instead of supplier (conformity with ISO 9001 v 2015)
Note 4. We use documented information to retain instead of record (conformity with ISO 9001 v 2015)
IATF 16949 v 2016 - Requirements and comments

Clause, sub-clause

Requirement

Comment, link

4

Context of the organization

4.1

The organization and its context

See ISO 9001 v 2015 requirements
4.2

Needs and expectations of interested parties

See ISO 9001 v 2015 requirements
4.3

Scope of the quality management system

See ISO 9001 v 2015 requirements
4.3.1

Scope of the quality management system

supplemental

1

4.3.1

Include supporting functions, whether on-site or remote, in the scope for the quality management system (QMS)
Such as design centers, corporate headquarters, distribution centers, laboratory

2

4.3.1

Justify the exclusions and maintain as documented information
Cf. sub-clause 7.5. The only permitted exclusion relates to the product design and development requirements, cf. sub-clause 8.3 of ISO 9001

3

4.3.1

Never exclude manufacturing process design
It is never authorized
4.3.2

Customer-specific requirements

4

4.3.2

Determine customer-specific requirements
Evaluate these requirements and include them in the scope of the QMS, cf. sub-clause 4.3
4.4

Quality management system and its processes

4.4.1

See ISO 9001 v 2015 requirements
4.4.1.1

Conformance of products and processes

5

4.4.1.1

Ensure conformity to all applicable customer, statutory and regulatory requirements
Of all products and manufacturing processes including service parts and those that are outsourced, cf. sub-clause 8.4.2.2
4.4.1.2

Product safety

6

4.4.1.2

Define documented processes for the management of product-safety related products and manufacturing processes
Cf. sub-clause 7.5

7

4.4.1.2 a

Identify statutory and regulatory product-safety requirements
Cf. sub-clause 8.4.2.2

8

4.4.1.2 b

Notify customer of statutory and regulatory product-safety requirements
Cf. sub-clause 8.4.2.2

9

4.4.1.2 c

Realize special approvals for design FMEA
Cf. 8.3.2.1. Special approval is any safety-related approval

10

4.4.1.2 d

Identify product safety-related characteristics
Cf. sub-clause 8.5.2.1 f

11

4.4.1.2 e

Identify and control safety-related characteristics of product
At the point of manufacture of these characteristics

12

4.4.1.2 f

Realize special approval
Of control plans and process FMEAs

13

4.4.1.2 g

Realize reaction plans during monitoring and measurement
Cf. sub-clause 9.1.1.1

14

4.4.1.2 h

Define responsibilities, escalation process and flow of information
Including top management and customer notification

15

4.4.1.2 i

Identify training for product-safety related products and associated processes
Cf. sub-clause 7.2

16

4.4.1.2 j

Approve changes of product or process prior to implementation
Evaluate potential effects on product safety from changes. Cf. 8.3.6

17

4.4.1.2 k

Prepare for the transfer of product safety requirements throughout the supply chain
Including customer-designated sources, cf. sub-clause 8.4.1.3

18

4.4.1.2 l

Prepare for product traceability by manufactured lot throughout the supply chain
Cf. sub-clause 8.5.2.1

19

4.4.1.2 m

Learn lessons from new product introduction
Including during the manufacture of the prototypes, cf. Sub-clause 8.3.4.3
4.4.2

See ISO 9001 v 2015 requirements
5

Leadership

5.1

Leadership and commitment

5.1.1

General

See ISO 9001 v 2015 requirements

5.1.1.1

Corporate responsibility

20

5.1.1.1

Define and implement an anti-bribery policy, an employee code of conduct and an ethics escalation policy
The corporate responsibility concerns everybody in the company and addresses expectations for improved integrity in social matters
5.1.1.2

Process effectiveness and efficiency

21

5.1.1.2

Review the product realization and support processes
On order to evaluate and improve their effectiveness and efficiency. Do not confuse effectiveness and efficiency:

effectiveness is the level of achievement of planned results
efficiency is the ration between results and resources

22

5.1.1.2

Include the results of the process review activities
As input to the management review, cf. sub-clause 9.3.2.1 b and c

5.1.1.3

Process owners

23

5.1.1.3

Assign for each process an owner
This is done exclusively by top management
24
5.1.1.3
Understand the role and ensure the necessary skills
Each process owner assumes responsibility for its role, cf. sub-clause 7.2

5.1.2

Customer focus

See ISO 9001 v 2015 requirements
5.2

Policy

5.2.1

Establishing the quality policy

See ISO 9001 v 2015 requirements
5.2.2

Communicating the quality policy

See ISO 9001 v 2015 requirements

5.3

Roles, responsibilities and authorities

See ISO 9001 v 2015 requirements

5.3.1

Roles, responsibilities and authorities

supplemental

25

5.3.1

Assign personnel with the responsibility and authority to ensure that customer requirements are met
This is done exclusively by top management

26

5.3.1

Document this mission
Cf. sub-clause 7.5.3.1

27

5.3.1

Include in this mission concrete requirements
Such as selection of special characteristics, determination of quality objectives, implementation of corrective and preventive actions, product design and development, analysis of scorecards

5.3.2

Responsibility and authority for product requirements and corrective actions

28

5.3.2 a

Stop shipment and production to correct quality problems
This authority is given to the quality manager (or the one responsible for meeting product requirements) by top management. When to stop production immediately is impossible isolate the lot and block the shipment
29

5.3.2 b

Inform promtly personnel responsible for corrective action of products or processes that do not conform to requirements
In order to avoid shipping nonconforming products. Any product even with a suspicion of nonconformity is immediately identified and isolated. See subclauses 8.7 and 10.2
30
5.3.2 c
Provide all shifts with a responsible person who ensures product conformity
This could be the team leader or another person who has received a delegation

6

Planning

6.1

Actions to address risks and opportunities

6.1.1 and 6.1.2

See ISO 9001 v 2015 requirements
6.1.2.1

Risk analysis

31

6.1.2.1
Include in risk analysis lessons learned that can contribute to improvement opportunities
Specific risks associated with the automotive industry such as product recalls, product audits, field returns and repairs, complaints, scrap and rework. Cf. sub-clauses 8.7, 9.2, 10.2 and 10.3

32

6.1.2.1
Retain documented information on the results of risk analysis
Cf. sub-clause 7.5.3.1
6.1.2.2

Preventive action

33

6.1.2.2
Determine an implement actions to eliminate the causes of potential nonconformities
In order to prevent their occurrence. Preventive actions are appropriate to the severity of the potential issues

34

6.1.2.2
Establish a process to lessen the impact of negative effects of risk
Cf. sub-clauses 6.1.1 and 6.1.2

35

6.1.2.2 a
Include the identification of potential nonconformities
Including identification of their causes

36

6.1.2.2 b
Include the evaluation of the need for action
In order to prevent their occurrence

37

6.1.2.2 c
Include the determination of action needed
Including their implementation

38

6.1.2.2 d
Include the provision of documented information
Relating to action taken, cf. sub-clause 7.5.3.1

39

6.1.2.2 e
Include the review of the effectiveness of the preventive action taken
Identifying and reviewing similar processes towards prevention

40

6.1.2.2 f
Include the use of lessons learned
In order to prevent the recurrence of the same causes in similar processes, cf. sub-clause 7.1.6
6.1.2.3

Contingency plans

41

6.1.2.3 a
Identify and evaluate internal and external risks to all manufacturing processes and infrastructure equipment
In order to maintain production output and to ensure that customer requirements are met

42

6.1.2.3 b
Define contingency plans
According to risk and impact to the customer

43

6.1.2.3 c
Prepare contingency plans for continuity of supply
In the event of key equipment failure, interruption from externally provided products, processes and services, natural disasters, fires, utility interruptions, labor shortages or infrastructure disruptions

44

6.1.2.3 d
Include in contingency plans a notification process
In order to inform all interested parties of the extent and duration of the emergency

45

6.1.2.3 e
Test periodically the contingency plans
In order to evaluate their effectiveness. Simulations, risk analysis

46

6.1.2.3 f
Review contingency plans at least once a year
Include a multidisciplinary team and top management. Perform updates

47

6.1.2.3 g
Retain documented information on emergency plans and revisions
Including the persons who authorized the changes, cf. sub-clause 7.5.3.1

48

6.1.2.3
Validate the product after the re-start of production following an emergency
In order to prove that the product continues to meet customer specifications

6.2

Quality objectives and planning to achieve them

See ISO 9001 v 2015 requirements

6.2.1 and 6.2.2

See ISO 9001 v 2015 requirements
6.2.2.1

Quality objectives and planning to achieve them

supplemental

49

6.2.2.1
Ensure that quality objectives to meet customer requirements are defined, established and maintained
It is the responsibility of top management to ensure that this is done for the functions and processes involved

50

6.2.2.1
Take into account the results of the review regarding interested parties
When quality objectives and associated performance indicators are set

6.3

Planning of changes

See ISO 9001 v 2015 requirements
7

Support

7.1

Resources

7.1.1

General

See ISO 9001 v 2015 requirements
7.1.2

People

See ISO 9001 v 2015 requirements

7.1.3

Infrastructure

See ISO 9001 v 2015 requirements
7.1.3.1

Plant, facility and equipment planning

51

7.1.3.1
Use a multidisciplinary approach to the development and improvement of plant, facility and equipment plans
Including risk identification and risk mitigation methods

52

7.1.3.1 a
Optimize material flow, material handling, value-added use of floor space and control of nonconforming products
Such as "prison" areas to segregate nonconformities

53

7.1.3.1 b
Facilitate synchronous material flow
As applicable

54

7.1.3.1
Develop and implement methods to evaluate manufacturing feasibility for new product
Or new operations

55

7.1.3.1
Include in production feasibility assessments capacity planning
Cf. sub-clause 8.1

56

7.1.3.1
Ensure that these methods are also applicable for evaluating proposed changes
Regarding existing operations

57

7.1.3.1
Maintain process effectiveness during changes made throughout manufacturing processes
Including periodic re-evaluation of risk. Cf. sub-clauses 8.5.1.1, 8.5.1.3 and 6.1.1

58

7.1.3.1
Include feasibility assessments and capacity planning in the inputs of the management review
Cf. sub-clause 9.3.2.1 Use the Lean approach

7.1.4

Process environment
beginning

See ISO 9001 v 2015 requirements
The requirements of the future ISO 45001 standard will be used for occupational safety aspects

7.1.4.1

Process environment

supplemental

59

7.1.4.1
Maintain production premises in a state of order and clean
According to product and process needs
7.1.5

Monitoring and measuring resources

7.1.5.1

General

7.1.5.1
See ISO 9001 v 2015 requirements
7.1.5.1.1

Measurement system analysis

60

7.1.5.1.1
Conduct statistical studies
In order to analyze the variations in the results of each type of inspection, measurement and test equipment system included in the control plan. Cf. sub-clause 8.5.1.1 and annex A

61

7.1.5.1.1
Use analytical methods and acceptance criteria conform to those in reference manuals
See AIAG publication references in Appendix B: MSA (Measurement Systems Analysis) and SPC (Statistical Process Control). Focus on critical or special characteristics

62

7.1.5.1.1
Use other analytical methods and acceptance criteria
If approved by the customer

63

7.1.5.1.1
Retain documented information of customer acceptance of alternative methods
Along with results from alternative measurement systems analysis. Cf. sub-clause 9.1.1.1
7.1.5.2

Measurement traceability

See ISO 9001 v 2015 requirements
Use a serial number or another identifier traceable to the device calibration documented information

7.1.5.2.1

Calibration/verification documented information
beginning

64

7.1.5.2.1
Use a documented process for managing documented information of calibration and verification
Cf. sub-clause 7.5.3.1

65

7.1.5.2.1
Retain documented information related to calibration and verification of gauges and measuring and test equipment
In order to provide evidence of conformity to internal, statutory, regulatory and customer requirements. Cf. sub-clause 7.5.3.1. Including employee-owned, customer-owned or on-site external provider-owned equipment

66

7.1.5.2.1 a
Include in calibration and verification activities and documented information revisions following engineering changes to measurement systems
Cf. sub-clause 8.5.6.1

67

7.1.5.2.1 b
Include in calibration and verification activities and documented information any out-of-specification readings
Cf. sub-clause 7.5.3.1

68

7.1.5.2.1 c
Include in calibration and verification activities and documented information an assessment of the risk of the intended use of the product
When an out-of-specification condition occurs

69

7.1.5.2.1 d
Include in calibration and verification activities and documented information the retention of documented information on the validity of previous results and the last and next calibration date
When a measuring or test equipment is found to be out of calibration

70

7.1.5.2.1 e
Include in calibration and verification activities and documented information notification to the customer if suspect product has been shipped
Including suspect material, cf. sub-clause 8.7.1.6

71

7.1.5.2.1 f
Include in calibration and verification activities and documented information statements of conformity to specification
After calibration or verification

72

7.1.5.2.1 g
Include in calibration and verification activities and documented information verification of the software version as specified
Software used for product and process control

73

7.1.5.2.1 h
Include in calibration and verification activities documented information of the calibration and maintenance activities for all gauging
Including employee-owned, customer-owned or on-site external provider-owned equipment

74

7.1.5.2.1 i
Include in calibration and verification activities and documented information the verification of production-related software used for product and process control
Including software installed on employee-owned, customer-owned or on-site external provider-owned equipment

7.1.5.3

Laboratory requirements

7.1.5.3.1

Internal laboratory

75

7.1.5.3.1
Describe the scope of the internal laboratory
Including its capability to perform the required inspection, test or calibration services

76

7.1.5.3.1
Include the laboratory scope description in the QMS documentation
Cf. sub-clause 4.3.1

77

7.1.5.3.1 a
Specify and implement requirements for adequacy of the technical procedures used
Accreditation to ISO 17025 may be used to demonstrate conformity to this requirement

78

7.1.5.3.1 b
Specify and implement requirements for competency of personnel
Cf. sub-clause 7.2

79

7.1.5.3.1 c
Specify and implement requirements for testing the product
Accreditation to ISO 17025 may be used to demonstrate conformity to this requirement

80

7.1.5.3.1 d
Specify and implement requirements for capability to perform these services correctly, traceable to the relevant process standard such as ASTM, EN
When a standard does not exist define and implement a methodology to verify measurement system capability

81

7.1.5.3.1 e
Specify and implement requirements for meeting customer requirements, if any
Accreditation to ISO 17025 may be used to demonstrate conformity to this requirement

82

7.1.5.3.1 f
Specify and implement requirements for review of laboratory activity

documented information

Cf. sub-clause 7.5.3.1
7.1.5.3.2

External laboratory

83

7.1.5.3.2
Describe the scope of the external laboratory
Including its capability to perform the required inspection, test or calibration services

84

7.1.5.3.2
Be accredited to ISO 17025 or equivalent
And include within the scope of the accreditation the relevant inspection, test or calibration services
85
7.1.5.3.2
Include the mark of a national accreditation body
For all calibration certificates or test reports

86

7.1.5.3.2
Provide evidence that the laboratory is accepted by the customer
Documented information signed by the customer is sufficient

87

7.1.5.3.2
Perform calibration services by the equipment manufacturer
When a qualified laboratory is not available

88

7.1.5.3.2
Ensure that internal laboratory requirements are met
When a qualified laboratory is not available

89

7.1.5.3.2
Obtain government regulatory confirmation, if required
When calibration services other than those provided by qualified laboratories are used
7.1.6

Organizational knowledge

See ISO 9001 v 2015 requirements
7.2

Competence

See ISO 9001 v 2015 requirements
7.2.1

Competence

supplemental

90

7.2.1
Establish and maintain a documented process for identifying training needs
Including awareness and competence related to product and process conformity. Cf. sub-clause 7.5.3.1

91

7.2.1
Obtain a qualification for specific tasks
Pay particular attention to the satisfaction of customer requirements
7.2.2

Competence - On-the-job training

92

7.2.2
Provide on-the-job training on customer requirements for new or modified responsibilities
When this may affect meeting quality, internal, statutory and regulatory requirements

93

7.2.2
Include contract or agency personnel for on-the-job training
These persons need more training than others

94

7.2.2
Adapt the level of detail for on-the-job training with the level of education the personnel possess
And also in relation to the complexity of daily tasks
95
7.2.2
Inform personnel about the consequences of nonconformity to customer requirements
Cf. sub-clause 8.7.1
7.2.3

Internal auditor competence

96

7.2.3
Use a documented process to verify internal auditor competency
Based on customer and ISO 19011 specific requirements

97

7.2.3
Maintain a list of qualified internal auditors
Cf. sub-clause 7.5.3.1

98

7.2.3 a
Demonstrate competency for an internal auditor on understanding of the automotive process approach
Risk-based thinking is part of the process approach. Cf. sub-clause 6.1

99

7.2.3 b
Demonstrate competency for an internal auditor on understanding of applicable customer-specific requirements
Cf. sub-clause 4.3.2

100

7.2.3 c
Demonstrate competency for an internal auditor on understanding of applicable requirements to the scope of the audit
Cf. sub-clause 9.2.2

101

7.2.3 d
Demonstrate competency for an internal auditor on understanding of applicable core tool requirements
Cf. annex B of l'IATF 16949

102

7.2.3 e
Demonstrate competency for an internal auditor on understanding how to plan, conduct, report and close out audit findings
Cf. sub-clause 9.2 and ISO 19011

103

7.2.3
Demonstrate technical understanding of the relevant manufacturing process to be audited
Including process risk analysis (process FMEA) and control plan

104

7.2.3
Demonstrate competence in understanding product requirements
Including using relevant measuring and test equipment in order to verify product conformity

105

7.2.3
Retain documented information on provided training and trainer competency
In order to acquire the necessary skills

106

7.2.3 f
Maintain and improve internal auditor competence by carrying out regular audits
The number of audits per year per auditor is defined internally

107

7.2.3 g
Maintain and improve internal auditor competence by maintaining knowledge of relevant requirements
Including following internal and external changes (standards, core tools, customer-specific requirements)
7.2.4

Second-party auditor competency

108

7.2.4
Demonstrate the competence of the auditors undertaking the second-party audits
Training, conducted audits with experienced auditors

109

7.2.4
Meet customer specific requirements
Cf. sub-clause 4.3.2

110

7.2.4 a
Demonstrate that second-party auditors possess the competence and understanding of the automotive process approach
Including risk-based thinking

111

7.2.4 b
Demonstrate that second-party auditors possess the competence and understanding of applicable customer-specific requirements
Cf. sub-clause 4.3.2

112

7.2.4 c
Demonstrate that second-party auditors possess the competence and understanding of applicable requirements to the scope of the audit
Cf. sub-clause 9.2.2

113

7.2.4 d
Demonstrate that second-party auditors possess the competence and understanding of applicable manufacturing process to be audited
Including PFMEA (process FMEA) and control plan, cf. sub-clause 8.5.1.1

114

7.2.4 e
Demonstrate that second-party auditors possess the competence and understanding of applicable core tool requirements related to the scope of the audit
Cf. annex B of IATF 16949

115

7.2.4 f
Demonstrate that second-party auditors possess the competence and understanding of how to plan, conduct, prepare audit reports and clause out audit findings
Cf. sub-clause 9.2 and ISO 19011
7.3
Awareness

See ISO 9001 v 2015 requirements
7.3.1

Awareness

supplemental

116

7.3.1
Retain documented information on employees' awareness of their impact on product quality, customer requirements and the importance of their activities in achieving, maintaining and improving quality
Including the risks involved for the customer with nonconforming product, cf. sub-clause 8.7.1
7.3.2

Employee motivation and empowerment

117

7.3.2
Maintain a documented process to motivate employees
Especially create an appropriate work environment (which motivates employees and promotes innovation). Cf. sub-clause 7.5.3.1

118

7.3.2
Include in the process the promotion of quality and technological awareness throughout the whole organization
Cf. sub-clause 10.3.1
7.4

Communication

See ISO 9001 v 2015 requirements
7.5

Documented information

7.5.1

General

See ISO 9001 v 2015 requirements
7.5.1.1

QMS documentation

119

7.5.1.1
Document the QMS including a quality manual
The quality manual is adapted to the size, culture and complexity of the organization

120

7.5.1.1
Retain a list of all documents
When the quality manual comprises a series of documents

121

7.5.1.1 a
Include the scope of the QMS
Including the justification for any exclusions, cf. sub-clause 4.3.1

122

7.5.1.1 b
Include documented processes or a reference to them
Cf. sub-clause 4.4.1.1

123

7.5.1.1 c
Include processes, their sequence and their interactions
Including outsourced processes, cf. sub-clause 8.4.2. A matrix of how the requirements of the IATF 16949 standard are addressed by the internal processes may be used

124

7.5.1.1 d
Include a document indicating where customer-specific requirements are addressed
Cf. sub-clause 4.3.2
7.5.2

Creating and upating

See ISO 9001 v 2015 requirements
7.5.3

Control of documented information

7.5.3.1 and 7.5.3.2

beginning
See ISO 9001 v 2015 requirements

Summary of ISO 9001 v 2015 and IATF 16949 documented information.

Documented information to maintain (procedures, documented process):

scope (sub-clause 4.3)
product safety (sub-clause 4.4.1.2)
processes (sub-clause 4.4.2 a)
quality policy (sub-clause 5.2.2 a)
quality objectives (sub-clause 6.2.1)
manage calibration and verification (sub-clause 7.1.5.2.1)
competence of personnel (sub-clause 7.2.1)
internal auditor competency (sub-clause 7.2.3)
employee motivation (sub-clause 7.3.2)
engineering specifications (sub-clause 7.5.3.2.2)
operational control (sub-clause 8.1)
design and development (sub-clause 8.3.1.1)
external provider selection (sub-clause 8.4.1.2)
outsourced processes (sub-clause 8.4.2.1)
statutory and regulatory requirements (sub-clause 8.4.2.2)
external provider performance ( sub-clause 8.4.2.4)
job set-ups status (sub-clause 8.5.1.3)
TPM system (sub-clause 8.5.1.5)
identification and traceability (sub-clause 8.5.2.1)
feedback (sub-clause 8.5.5.1)
control of changes (sub-clause 8.5.6.1)
manage alternative methods (sub-clause 8.5.6.1.1)
reworked product (sub-clause 8.7.1.4)
repairs (sub-clause 8.7.1.5)
nonconforming product disposition (sub-clause 8.7.1.7)
internal audit (sub-clause 9.2.2.1)
problem solving (sub-clause 10.2.3)
error-proofing devices (sub-clause 10.2.4)
continual improvement (sub-clause 10.3.1)

Documented information to retain (records):

exclusion justification (sub-clause 4.3.1)
product safety (sub-clause 4.4.1.2)
processes (sub-clause 4.4.2 b)
meeting customer requirements (sub-clause 5.3.1)
results of risk analysis (sub-clause 6.1.2.1)
contingency plans (sub-clause 6.1.2.3)
adequacy of inspection resources (sub-clause 7.1.5.1)
alternative methods (sub-clause 7.1.5.1.1)
calibration (sub-clause 7.1.5.2)
calibrations and verifications (sub-clause 7.1.5.2.1)
internal laboratory scope (sub-clause 7.1.5.3.1)
competence of personnel (sub-clause 7.2)
list of qualified internal auditors (sub-clause 7.2.3)
training to achieve competency (sub-clause 7.2.3)
awareness of employee (sub-clause 7.3.1)
quality manual (sub-clause 7.5.1.1)
of external origin (sub-clause 7.5.3.2)
product and service conformity (sub-clause 8.1)
authorized concession (sub-clause 8.2.3.1.1)
special characteristics (sub-clause 8.2.3.1.2)
results of the review of product and services requirements (sub-clause 8.2.3.2)
design and development inputs (sub-clause 8.3.3)
design and development planned results, reviews, verifications and validations (sub-clause 8.3.4)
product approval (sub-clause 8.3.4.4)
design and development outputs (sub-clause 8.3.5)
design and development changes (sub-clause 8.3.6)
activities and evaluation actions of external providers (sub-clause 8.4.1)
software development self-assessment (sub-clause 8.4.2.3.1)
second-party audit report (sub-clause 8.4.2.4.1)
product and service characteristics or activities to be performed, results to be achieved (sub-clause 8.5.1)
control plan (sub-clause 8.5.1.1)
operator safety rules (sub-clause 8.5.1.2)
process and product approval (sub-clause 8.5.1.3)
traceability response time (sub-clause 8.5.2.1)
product and service traceability (sub-clause 8.5.2)
customer-own property status (sub-clause 8.5.3)
results of change review (sub-clause 8.5.6)
change verification and validation (sub-clause 8.5.6.1)
list of the process controls (sub-clause 8.5.6.1.1)
restart period (sub-clause 8.5.6.1.1)
release of products and services (sub-clause 8.6)
customer concession (sub-clause 8.7.1.1)
product rework (sub-clause 8.7.1.4)
product repair (sub-clause 8.7.1.5)
customer notification of nonconforming product shippment (sub-clause 8.7.1.6)
nonconforming product and service processing (sub-clause 8.7.2)
inspection results (sub-clause 9.1.1)
significant process events (sub-clause 9.1.1.1)
date of process change implementation (sub-clause 9.1.1.1)
audit program and audit results (sub-clause 9.2.2)
management review outputs (sub-clause 9.3.3)
action plan (sub-clause 9.3.3.1)
nonconformity, actions and results (sub-clause 10.2.2)
test with error-proofing devices (sub-clause 10.2.4)

7.5.3.2.1

Documented information retention

125

7.5.3.2.1
Define, document and implement a documented information retention policy
Cf. sub-clause 7.5.3.1

126

7.5.3.2.1
Satisfy statutory, regulatory, internal and customer requirements
To control all documented information

127

7.5.3.2.1
Retain documented information for the length of time that the product is active for production and service, plus one calendar year, unless otherwise specified
Documented information relating to production part approvals, tools (including maintenance and ownership), product and process design, purchase orders, contracts and amendments
7.5.3.2.2

Engineering specifications

128

7.5.3.2.2
Use a documented process describing the review, distribution and implementation of all customer engineering standards and specifications
Including related revisions and customer schedules. Cf. sub-clause 7.5.3.1

129

7.5.3.2.2
Refer to change control requirements when a change of a standard or engineering specification results in a product design change
Cf. sub-clause 8.3.6

130

7.5.3.2.2
Refer to change control requirements when a change of a standard or engineering specification results in a product realization process change
Cf. sub-clause 8.5.6.1

131

7.5.3.2.2
Retain documented information of the date on which each change is implemented in production
Cf. sub-clause 7.5.3.1

132

7.5.3.2.2
Include updated documents
Retain the date of implementation

133

7.5.3.2.2
Conduct the review within 10 working days
Upon notification of engineering standards or specifications changes
8

Operation

Do
8.1

Operational planning and control

See ISO 9001 v 2015 requirements

8.1.1

Operational planning and control

Supplément

134
8.1.1 a
Include in planning for product realization the technical specifications and customer product requirements
Cf. 7.5.3.2.2
135
8.1.1 b
Include in planning for product realization the logistics requirements
In order to adapt planning to the way the company operates
136
8.1.1 c
Include in planning for product realization the manufacturing feasibility
Cf. sub-clause 8.2.3.1.3
137
8.1.1 d
Include in planning for product realization the project planning
Cf. sub-clause 8.3.2
138
8.1.1 e
Include in planning for product realization the acceptance criteria
Cf. sub-clause 8.6.6
139
8.1.1
Determine necessary resources needed to achieve conformity of products and services
The activities required are verification, validation, monitoring, measurement, inspection, specific test and acceptance criteria
8.1.2

Confidentiality

140
8.1.2
Ensure the confidentiality of customer-contracted products and projects under development
And during implementation
8.2

Requirements for products and services

8.2.1

Customer communication

See ISO 9001 v 2015 requirements
8.2.1.1

Customer communication

supplemental
141
8.2.1.1
Speak in the language agreed with the customer
Concerning written or verbal communication, cf. sub-clause 7.4
142
8.2.1.1
Ensure the ability to communicate in a computer language and format specified by the customer
Such as computer-aided design data and electronic data interchange
8.2.2

Requirements for products and services

See ISO 9001 v 2015 requirements

8.2.2.1

Requirements for products and services

supplemental

143
8.2.2.1
Include recycling and environmental impact requirements
Identify the characteristics of the product and processes
144
8.2.1.1
Include compliance obligations, applicable government and safety requirements
Related to acquisition, storage, handling, recycling, elimination or disposal of material. Cf. sub-clause 8.2.2 a
8.2.3
Review of the requirements for products and services

8.2.3.1

See ISO 9001 v 2015 requirements
8.2.3.1.1

Review of the requirements for products and services

supplemental

145
8.2.3.1.1
Retain documented evidence (approval) of a customer-authorized concession
Cf. sub-clauses 7.5.3.1 and 8.7.1
8.2.3.1.2

Customer-designated special characteristics

146
8.2.3.1.2
Control the customer's special characteristics
Identification, approval and control, cf. sub-clause 8.2.3.1
8.2.3.1.3
Organization manufacturing feasibility

147
8.2.3.1.3
Utilize a multidisciplinary approach to conduct an analysis to determine if it is feasible to consistently produce product
That meets all of the engineering and capacity customer requirements, cf. sub-clauses 7.1.3.1 and 8.1.1
148
8.2.3.1.3
Conduct a feasibility analysis for any new technology or for any changed process or product design
Cf. sub-clause 8.3.6
149
8.2.3.1.3
Validate the ability to make product at the required rate
Through production runs or other method such as simulation
8.2.3.2

See ISO 9001 v 2015 requirements

8.2.4

Changes to requirements for products and services

See ISO 9001 v 2015 requirements
8.3

Design and development of products and services

8.3.1

General

beginning
See ISO 9001 v 2015 requirements
8.3.1.1

Design and development of products and services

supplemental

150
8.3.1.1
Focus on error prevention rather than detection
Take into account the requirements of sub-clause 8.3.1 also for processes
151
8.3.1.1
Document the design and development process
Cf. sub-clause 7.5.3.1
8.3.2
Design and development planning
See ISO 9001 v 2015 requirements
8.3.2.1

Design and development planning

supplemental

152
8.3.2.1
Include all affected interested parties in the design and development planning
Including, as appropriate, the supply chain
153
8.3.2.1 a
Include in the multidisciplinary approach the project management
As APQP, cf. annex B
154
8.3.2.1 b
Include in the multidisciplinary approach the use of alternative product and manufacturing process design activities
Concerning product and manufacturing processes, cf. annex B
155
8.3.2.1 c
Include in the multidisciplinary approach the development and review of product design risk analysis and actions to reduce potential risks
Such as product FMEA
156
8.3.2.1 d
Include in the multidisciplinary approach the development and review of manufacturing process risk analysis
Such as PFMEA, process flows, control plans
8.3.2.2

Product design skills

157
8.3.2.2
Ensure that personnel are competent to achieve design requirements
And control applicable product design tools and techniques
158
8.3.2.2
Identify applicable tools and techniques for product design
Such as digitized mathematically based data
8.3.2.3

Development of products with embedded software

159
8.3.2.3
Use a process for quality assurance for products with internally embedded software
Concerning one or more embedded systems by product
160
8.3.2.3
Assess the software development process
Cf. sub-clauses 8.3.3.1 h, 8.3.4.2, and 8.4.2.3.1
161
8.3.2.3
Retain documented information of a software development capability self-assessment
Using prioritization based on risk and potential impact to the customer. Cf. sub-clause 7.5.3.1
162
8.3.2.3
Include software development within the internal audit program
Cf. sub-clause 9.2.2.1
8.3.3

Design and development inputs

beginning
See ISO 9001 v 2015 requirements
8.3.3.1

Product design input

163
8.3.3.1
Identify, document and review product design input requirements
After each contract review. Cf. sub-clause 7.5.3.1
164
8.3.3.1 a
Include in product design input requirements the product specifications and special characteristics
Cf. sub-clause 8.3.3.3
165
8.3.3.1 b
Include in product design input requirements the boundary and interface requirements
Limits not to exceed and links to other products and assemblies
166
8.3.3.1 c
Include in product design input requirements the identification, traceability and packaging
Cf. sub-clauses 8.5.2 and 8.5.4.1
167
8.3.3.1 d
Include in product design input requirements the consideration of design alternatives
Such as compromise curves
168
8.3.3.1 e
Include in product design input requirements the assessment of risks
Including the ability to mitigate the risks and the feasibility analysis, cf. sub-clauses 6.1 and 8.2.3.1.3
169
8.3.3.1 f
Include in product design input requirements the objectives for product conformity
Such as preservation, reliability, durability, serviceability, health, safety, environmental, development timing and cost
170
8.3.3.1 g
Include in product design input requirements the applicable statutory and regulatory requirements
Of the customer-identified country of destination, if provided
171
8.3.3.1 h
Include in product design input requirements the embedded software requirements
Such as requirements related to predictability, analyzability, verifiability and comprehensibility. Cf. sub-clause 8.3.2.3
172
8.3.3.1
Ensure a process to deploy appropriate information
Such as gained from previous design projects, benchmarking, feedback, field data
8.3.3.2

Manufacturing process design input

173
8.3.3.2
Identify, document and review manufacturing process design input requirements
Cf. sub-clause 7.5.3.1
174
8.3.3.2 a
Include in process design input the product design output data
Including special characteristics
175
8.3.3.2 b
Include in process design input the objectives for performance
Such as productivity, process capability, timing and costs
176
8.3.3.2 c
Include in process design input the manufacturing technologies alternatives
Bench marking
177
8.3.3.2 d
Include in process design input the customer requirements
Cf. sub-clause 4.3.2
179
8.3.3.2 e
Include in process design input the experiences acquired
Such as previous design projects, benchmarking, feedback
180
8.3.3.2 f
Include in process design input the new materials
That will be used for new products
181
8.3.3.2 g
Include in process design input the product handling and ergonomic requirements
Cf. sub-clause 7.1.4
182
8.3.3.2 h
Include in process design input design for manufacturing and design for assembly
Cf. annex B
183
8.3.3.2
Include the use of appropriate error-proofing methods
Cf. sub-clause 10.2.4
8.3.3.3

Special characteristics

184
8.3.3.3
Use a multidisciplinary approach to establish, document and implement a process to identify special characteristics
Cf. sub-clause 7.5.3.1. Taking into account the special characteristics resulting from the risk analysis
185
8.3.3.3 a
Include all special characteristics and identify them with special markings in all concerned documents
Such as drawings, FMEAs, control plans, work instructions
186
8.3.3.3 b
Control special characteristics of products and processes
Development of control and monitoring strategies throughout the production chain
187
8.3.3.3 c
Obtain customer-specified approvals
When required
188
8.3.3.3 d
Observe customer-specified definitions and symbols
Or use equivalent symbols defined in a conversation table
189
8.3.3.3 d
Submit the symbol conversion table to the customer for approval
If required
8.3.4

Design and development controls

See ISO 9001 v 2015 requirements
8.3.4.1

Monitoring

190
8.3.4.1
Define, analyze and report summary of measurements as an input to management review, at specified stages during design and development of products and processes
Cf. sub-clause 9.3.2.1. Risks are included, where appropriate, related to quality, costs, development times and other measures
191
8.3.4.1
Report to the customer, when required, measurements of the product and process development activity, at specified stages
The stages are specified by the customer or decided with his consent
8.3.4.2

Design and development validation

192
8.3.4.2
Perform design and development validation in accordance with customer and applicable industry standards
Including any applicable industry and governmental agency-issued regulatory standard
193
8.3.4.2
Plan and meet deadlines for design and development validation
If possible, follow the schedule specified by the customer
194
8.3.4.2
Include in the validation evaluation of the interaction of the product with the system of the final customer's product
Where contractually agreed with the customer, including embedded software, cf. sub-clause 8.3.2.3
8.3.4.3

Prototype program

195
8.3.4.3
Ensure a prototype program, when required by the customer
Including a prototype control plan, cf. sub-clause 8.5.1.1
196
8.3.4.3
Use, whenever possible, the same external providers, tooling and manufacturing processes as will be used in production
In order not to have surprises
197
8.3.4.3
Monitor all performance-testing activities for timely completion
And for conformity
198
8.3.4.3
Include in the scope of the QMS, when services are outsourced, the type and extent of control of outsourced services
Cf. sub-clause 8.4
8.3.4.4

Product approval process

199
8.3.4.4
Establish, implement and maintain a product and manufacturing approval process conforming to customer requirements
Verify the manufacturing process before product approval, review the effectiveness of the process
200
8.3.4.4
Approve externally provided products and services
Prior to submission of part approval to the customer. Cf. sub-clause 8.4.3
201
8.3.4.4
Obtain documented product approval prior to shipment
If required by the customer
202
8.3.4.4
Retain documented information of such approval
Cf. sub-clause 7.5.3.1
8.3.5
Design and development outputs

See ISO 9001 v 2015 requirements
8.3.5.1

Design and development outputs

supplemental

203
8.3.5.1
Express product design output against design input requirements
In terms that can be verified and validated
204
8.3.5.1 a
Include in the product design output the design risk analysis
Such as FMEA and problems resolved through a compromise process
205
8.3.5.1 b
Include in the product design output the reliability study results
Cf. sub-clause 8.3.5.2 l
206
8.3.5.1 c
Include in the product design output the product special characteristics
Cf. sub-clause 8.3.3.3
207
8.3.5.1 d
Include in the product design output the results of product design error-proofing
Cf. sub-clause 10.2.4 and annex B. Such as DFSS (Design for Six Sigma), DFMA (Design for Manufacture and Assembly), FTA (Fault Tree Analysis)
208
8.3.5.1 e
Include in the product design output the product definition
Such as 3D models, technical data packages, product manufacturing information, GD&T (geometric dimensioning & tolerancing)
209
8.3.5.1 f
Include in the product design output the 2D drawings
Such as product manufacturing information, GD&T (geometric dimensioning & tolerancing)
210
8.3.5.1 g
Include in the product design output the product design review results
Which may be included as inputs to the management review, cf. Sub-clause 9.3.2.1
212
8.3.5.1 h
Include in the product design output the diagnostic guidelines and repair instructions
In order to realize diagnostics, repairs and replacements
213
8.3.5.1 i
Include in the product design output the service part requirements
Including instructions, methods, tooling
214
8.3.5.1 j
Include in the product design output the packaging and labelling requirements
All shipping information
8.3.5.2

Manufacturing process design output

215
8.3.5.2
Document the manufacturing process design output
In order to verify these outputs against inputs
216
8.3.5.2
Verify the outputs against manufacturing process design input requirements
Concerning manufacturing process design
217
8.3.5.2 a
Include in the manufacturing process design output the specifications and drawings
Necessary to manufacturing
218
8.3.5.2 b
Include in the manufacturing process design output the special characteristics
Cf. sub-clause 8.3.3.3
219
8.3.5.2 c
Include in the manufacturing process design output the identification of process input variables
Input variables that impact chracteristics
220
8.3.5.2 d
Include in the manufacturing process design output the tooling and equipment for production and control
Including capability studies of equipment and processes
221
8.3.5.2 e
Include in the manufacturing process design output the manufacturing process flow charts and layout
In order to show the links between product, process, tooling, raw material and inspection
222
8.3.5.2 f
Include in the manufacturing process design output the capacity analysis
Cf. sub-clause 8.2.3.1.3
223
8.3.5.2 g
Include in the manufacturing process design output the manufacturing process FMEA
Cf. sub-clause 8.5.1.1
224

8.3.5.2 h
Include in the manufacturing process design output the maintenance
Planning, instructions, cf. sub-clause 8.5.1.5
225
8.3.5.2 i
Include in the manufacturing process design output the control plan
Cf. annex A
226
8.3.5.2 j
Include in the manufacturing process design output the standardized work and work instructions
And any other necessary manufacturing document
227
8.3.5.2 k
Include in the manufacturing process design output the process approval acceptance criteria
In order to validate the processes
227
8.3.5.2 l
Include in the manufacturing process design output the production data
Concerning quality, reliability, maintainability and measurability
228
8.3.5.2 m
Include in the manufacturing process design output the results of error-proofing identification and verification
As appropriate. Cf. sub-clause 10.2.4
229
8.3.5.2 n
Include in the manufacturing process design output the cases of product and process nonconformities
Such as feedback, methods of rapid detection and solving
8.3.6

Design and development changes

See ISO 9001 v 2015 requirements
8.3.6.1

Design and development changes

supplemental

230
8.3.6.1
Evaluate all design changes after initial product approval for potential impact on fit, form, function, performance or durability
Including those proposed internally or by external providers
231
8.3.6.1
Validate and approve these changes prior to production implementation
Taking into account customer requirements
232
8.3.6.1
Obtain customer documented approval or a documented concession prior to production implementation
If required by the customer
233
8.3.6.1
Document the revision level of software and hardware for products with embedded software
When changes are retained, cf. sub-clause 7.5.3.1
8.4

External providers

8.4.1

General

beginning
See ISO 9001 v 2015 requirements
8.4.1.1

General

supplemental

234
8.4.1.1
Include in the definition of externally provided products, processes and services all products and services that affect customer requirements
Such as sub-assembly, sorting, rework and calibration
8.4.1.2

External provider selection process

235
8.4.1.2
Define a documented external provider selection process
Cf. sub-clause 8.4.1
236
8.4.1.2 a
Include in the selection process an assessment of external providers
Compared to product and supply conformity
237
8.4.1.2 b
Include in the selection process the performance
Compared to quality and delivery performance
238
8.4.1.2 c
Include in the selection process an evaluation of the external provider QMS
Cf. sub-clause 8.4.2.3
239
8.4.1.2 d
Include in the selection process multidisciplinary decision making
As representatives of purchasing, quality and logistics departments
240
8.4.1.2 e
Include in the selection process an assessment of software development capabilities
Cf. sub-clause 8.4.2.3.1
241
8.4.1.2
Include in the external provider selection other criteria to consider such as volume of automotive business
As quantity or as percentage
242
8.4.1.2
Include in the external provider selection other criteria to consider such as financial stability
Historical and competitive analysis
243
8.4.1.2
Include in the external provider selection other criteria to consider such as purchased product, material or service complexity
Be careful because sometimes some simple things are very difficult to achieve
244
8.4.1.2
Include in the external provider selection other criteria to consider such as required technology
Concern the product or the process
245
8.4.1.2
Include in the external provider selection other criteria to consider such as adequacy of available resources
Such as people, equipment and infrastructure
246
8.4.1.2
Include in the external provider selection other criteria to consider such as design and development capabilities
Including project management
247
8.4.1.2
Include in the external provider selection other criteria to consider such as manufacturing capability
Very important criterion
248
8.4.1.2
Include in the external provider selection other criteria to consider such as change management process
Cf. sub-clause 8.5.6
249
8.4.1.2
Include in the external provider selection other criteria to consider such as business continuity planning
Such as disaster preparedness or contingency planning
250
8.4.1.2
Include in the external provider selection other criteria to consider such as logistic process
Management of normal and crisis situations
251
8.4.1.2
Include in the external provider selection other criteria to consider such as customer service
Management of nonconforming product and crisis situations
8.4.1.3

Customer-directed sources

252
8.4.1.3
Purchase products, materials or services from customer-directed sources
These are customer-designated (approved) external providers
253
8.4.1.3
Apply the requirements of sub-clause 8.4 unless otherwise agreed in the contract with the customer
Cf. sub-clause 8.4
8.4.2

Type and extent of control

beginning
See ISO 9001 v 2015 requirements
8.4.2.1

Type and extent of control

supplemental

254
8.4.2.1
Define a documented process to identify outsourced processes
Select the type and extent of inspections to verify conformity of products, processes and services provided by external providers
255
8.4.2.1
Include the criteria and actions to escalate or reduce the type and extent of controls
Based on external provider performance and associated risks
8.4.2.2

Statutory and regulatory requirements

256
8.4.2.2
Document a process to ensure that purchased products, processes and services conform to the current applicable statutory and regulatory requirements in the country of customer receipt, shipment and destination
Cf. sub-clause 7.5.3.1
257
8.4.2.2
Implement and maintain as defined by customer special controls for certain products with statutory and regulatory requirements
Including if these inspections are performed at external provider's premises
8.4.2.3

External provider QMS development

258
8.4.2.3
Require the external providers to develop, implement and improve an ISO 9001-certified QMS by following the sequence below
And to explain that the ultimate objective is becoming IATF 16949 certified, unless otherwise authorized by the customer
259
8.4.2.3 a
Apply conformity to ISO 9001 through second-party audits
Cf. sub-clause 7.2.4
260
8.4.2.3 b
Obtain certification to ISO 9001 through third-party audits
Tis must be done by a certification body recognized IAF MLA (International Accreditation Forum Multilateral Recognition Arrangement)
261
8.4.2.3 c
Apply certification to ISO 9001 completed by conformity to other customer-defined QMS requirements
Such as requirements announced in the MAQMSR (Minimum Automotive Management System Requirements) or another equivalent standard
262
8.4.2.3 d
Obtain certification to ISO 9001 with conformity to IATF 16949 through second-party audits
Cf. sub-clause 7.2.4
263
8.4.2.3 e
Obtain certification to IATF 16949 through third-party audits
This must be issued by an IATF-recognized certification body
8.4.2.3.1

Automotive product-related software (embedded software)

264
8.4.2.3.1
Require the external providers of automotive product-related software or embedded software to implement and maintain a specific process
In order to ensure product software quality
265
8.4.2.3.1
Utilize a software development assessment methodology
In order to assess the external provider software development process
266
8.4.2.3.1
Require the external providers to retain documented information of their self-assessment capability to develop software
Using prioritization based on risk and potential impact to the customer
8.4.2.4

External provider monitoring

267
8.4.2.4
Identify a documented process and criteria to evaluate the performance of external providers
And introduce improvement actions. Cf. sub-clause 7.5.3.1
268
8.4.2.4
Ensure conformity with internal and customer requirements for all that is provided by external providers
Such as products, processes and services
269
8.4.2.4 a
Monitor performance indicators of external providers such as conformity of delivered products
Cf. sub-clause 8.4.1.1
270
8.4.2.4 b
Monitor performance indicators of external providers such as customer disruptions at the receiving plant
Including yard holds and stop ships
271
8.4.2.4 c
Monitor performance indicators of external providers such as delivery schedule
Quantity, quality, deadlines
272
8.4.2.4 d
Monitor performance indicators of external providers such as number of occurrences of premium freight
Such as abnormal deliveries (by taxi, by airplane, by helicopter)
273
8.4.2.4 e
Include customer notifications for special status
Root causes related to quality or delivery issues of external providers
274
8.4.2.4 f
Include dealer returns, warranty
Including field actions and recalls
8.4.2.4.1

Second-party audit

275
8.4.2.4.1
Include a second-party audit process
In external provider's management. Cf. the IATF auditor guide and ISO 19011
276
8.4.2.4.1 a
Use second-party audits for risk assessment
Related to the external provider
277
8.4.2.4.1 b
Use second-party audits for external provider monitoring
Regular monitoring of its performance
278
8.4.2.4.1 c
Use second-party audits for development of external provider QMS
Cf. sub-clause 8.4.2.3
279
8.4.2.4.1 d
Use second-party audits for product audits
Cf. sub-clause 9.2.2.4
280
8.4.2.4.1 e
Use second-party audits for process audits
Cf. sub-clause 9.2.2.3
281
8.4.2.4.1
Document the criteria for determining the need, type, frequency and scope of second-party audits
Based on a risk analysis, the external provider's safety / regulatory performance and the level of development of its QMS
282
8.4.2.4.1
Retain documented information of the second-party audit reports
Cf. sub-clause 7.5.3.1
283
8.4.2.4.1
Adopt an approach consistent with the automotive process approach
When the audit assesses the QMS of external providers
8.4.2.5

External provider development

284
8.4.2.5
Determine the development actions for active external providers
Including the priority, type, extent and timing of actions. Consider short and long term goals
285
8.4.2.5 a
Take into account performance issues
Cf. sub-clause 8.4.2.4
286
8.4.2.5 b
Take into account second-party audit findings
Cf. sub-clause 8.4.2.4.1
287
8.4.2.5 c
Take into account third-party QMS certification status
Cf. sub-clause 8.4.2.3
288
8.4.2.5 d
Take into account risk analysis
Cf. sub-clause 6.1.2.1
289
8.4.2.5
Implement actions necessary to resolve open performance issues
And seize opportunities for continual improvement
8.4.3

Information for external providers

beginning
See ISO 9001 v 2015 requirements
8.4.3.1

Information for external providers

supplemental

290
8.4.3.1
Pass down all applicable statutory and regulatory requirements and special product and process characteristics to external providers
Cf. sub-clauses 8.4.2.2 and 8.3.3.3
291
8.4.3.1
Require the external providers to cascade all applicable requirements down the supply chain
Concerning the points of manufacture
8.5

Production and service provision

8.5.1

Control of production and service provision

See ISO 9001 v 2015 requirements
8.5.1.1

Control plan

292
8.5.1.1
Develop control plans at all levels (system, subsystem, component and material including bulk materials)
Cf. annex A
293
8.5.1.1
Use family control plans
For bulk material and similar parts (using a common manufacturing process)
294
8.5.1.1
Develop control plans for pre-launch and production with information from the design risk analysis, process flow diagram and process risk analysis outputs
Such as FMEA. Cf. sub-clause 8.3.2.1
295
8.5.1.1
Provide, if requested by the customer, data collected during execution of either the pre-launch or production control plans
Cf. sub-clause 7.5.3.1
296
8.5.1.1 a
Include in the control plan controls used for the manufacturing process control
Including verification of job set-ups
297
8.5.1.1 b
Include in the control plan first-off/last-off part validation
As applicable
298
8.5.1.1 c
Include in the control plan methods for monitoring of control
In order to verify the special characteristics, cf. annex A
299
8.5.1.1 d
Include in the control plan customer-required information
If any
300
8.5.1.1 e
Include in the control plan when initiating a specified reaction plan
When nonconforming product is detected, the process becomes statistically unstable or not statistically capable. Cf. annex A
301
8.5.1.1 f
Review and update control plans when the organization determines it has shipped nonconforming product to the customer
Cf. sub-clause 8.7.1
302
8.5.1.1 g
Review and update control plans when any change occurs
Affecting product, manufacturing process, measurement, logistics, supply sources, production volume, or risks analysis. Cf. annex A
303
8.5.1.1 h
Review and update control plans after a customer complaint and implementation of the associated corrective action
Cf. sub-clause 10.2
304
8.5.1.1 i
Review and update control plans at a set frequency
Based on a risk analysis
305
8.5.1.1
Obtain customer approval after review of the control plan
If required by the customer
8.5.1.2

Standardized work - operator instructions and visual standards

beginning
306
8.5.1.2 a
Ensure that standardized work documents are communicated to and understand by the employees
Who are responsible for performing the work
307
8.5.1.2 b
Ensure that standardized work documents are legible
Cf. sub-clause 7.5.2
308
8.5.1.2 c
Ensure that standardized work documents are presented in the language understood by those responsible to follow them
Cf. sub-clause 7.5.2
309
8.5.1.2 d
Ensure that standardized work documents are accessible
At the designed work areas
310
8.5.1.2
Include in standardized work documents rules for operator safety
Cf. sub-clause 7.1
8.5.1.3

Verification of job set-ups

311
8.5.1.3 a
Verify job set-ups
It is the responsibility of the team leader, during initial start-up, modification of equipment or change of production family
312
8.5.1.3 b
Maintain documented information for job set-ups
For set-up personnel. Cf. sub-clause 7.5.3.1
313
8.5.1.3 c
Use statistical methods of verification
Where applicable. Cf. sub-clause 9.1.1.2
314
8.5.1.3 d
Perform first-off/last-off part validation, as applicable
Where appropriate retain first-off parts and last-off parts for comparison. Cf. sub-clause 8.5.1.1 b
315
8.5.1.3 e
Retain documented information of process and product approval
Following set-up and first-off (last-off) part validation, cf. sub-clause 7.5.3.1

8.5.1.4

Verification after shutdown

316
8.5.1.4
Define and implement the necessary actions to ensure product conformity
After a production shutdown period. Lessons learned and best practices
8.5.1.5

Total productive maintenance

317
8.5.1.5
Develop, implement and maintain a documented total productive maintenance system
For all manufacturing processes. Cf. annex B
318
8.5.1.5 a
Identify the necessary process equipment
In order to produce conforming product at the required volume
319
8.5.1.5 b
Manage the availability of replacements parts
For the necessary process equipment
320
8.5.1.5 c
Provide necessary maintenance personnel
For machine, equipment and facility maintenance
321
8.5.1.5 d
Manage packaging and preservation of equipment, tooling and gauging
Cf. sub-clause 8.5.4
322
8.5.1.5 e
Include applicable customer-specific requirements
Cf. sub-clause 4.3.2
323
8.5.1.5 f
Determine documented maintenance objectives
Such as OEE (Overall Equipment Effectiveness), MTBF (Mean Time Between Failure), MTTR ( Mean Time To Repair) and preventive maintenance compliance metrics
324
8.5.1.5 f
Use performance to the maintenance objectives as input to management review
Cf. sub-clause 9.3.2
325
8.5.1.5 g
Review maintenance plan and objectives
Regularly
326
8.5.1.5 g
Document corrective actions where objectives are not achieved
Cf. sub-clause 10.2
327
8.5.1.5 h
Use preventive maintenance methods
To avoid the causes of malfunctions. "A little prevention is better than a lot of healing." English proverb
328
8.5.1.5 i
Use predictive maintenance methods
To monitor periodically and plan actions. As applicable
329
8.5.1.5 j
Include periodic overhaul
In the maintenance plan
8.5.1.6

Management of tooling and equipment

330
8.5.1.6
Provide resources for tool and gauge design, fabrication and verification activities
For production and service materials and for bulk materials, as applicable
331
8.5.1.6 a
Include maintenance and repair facilities and personnel in tooling management
Cf. sub-clauses 7.1.2 and 7.1.4
332
8.5.1.6 b
Include storage and recovery in tooling management
Cf. sub-clause 7.1.3
333
8.5.1.6 c
Include set-up in tooling management
Cf. sub-clause 7.1.3
334
8.5.1.6 d
Include tool-change programs in tooling management
For perishable tools
335
8.5.1.6 e
Include tool design modification documentation in tooling management
Including engineering change level of the product
336
8.5.1.6 f
Include tool modification in tooling management
Including revision of documentation
337
8.5.1.6 g
Include tool identification in tooling management
Such as serial or asset number, its usage status (production, repair or disposal), ownership and location
338
8.5.1.6
Verify that customer-owned tools and equipment are permanently marked in a visible location
In order to determine owneship and application of each item, cf. sub-clause 8.5.3
339
8.5.1.6
Monitor these activities when they are outsourced
Cf. sub-clause 8.4.1

8.5.1.7

Production scheduling

340
8.5.1.7
Ensure that production is scheduled in order to meet customer orders
Including just-in-time (JIT) production. Use lessons learned
341
8.5.1.7
Ensure that an information system permits access to production data
At key stages of the process and is order driven
342
8.5.1.7
include relevant planning information during production scheduling
Such as customer orders, delivery performance of external providers, capacity, shared loading, lead time, inventory level, preventive maintenance and calibration. In other words a robust feasibility review process regarding production scheduling
8.5.2

Identification and traceability

beginning
See ISO 9001 v 2015 requirements
8.5.2.1

Identification and traceability

supplemental

343
8.5.2.1
Identify clear start and stop points for product received by the customer with the help of traceability
Product that may present a risk of nonconformity or safety, based on lessons learned
344
8.5.2.1
Implement identification and traceability processes
Processes described in the requirements below
345
8.5.2.1
Conduct an analysis of internal, customer and regulatory traceability requirements
Related to traceability applicable to automotive products
346
8.5.2.1
Develop and document traceability plans
Based on the levels of risk or failure severity for employees, customers and consumers, cf. sub-clause 7.5.3.1

347
8.5.2.1
Define traceability systems, processes and methods
By product, process and manufacturing location
348
8.5.2.1 a
Identify nonconforming or suspect product
Cf. sub-clauses 8.7.1 and 8.7.1.3
349
8.5.2.1 b
Segregate nonconforming or suspect product
Red boxes and "prison"
350
8.5.2.1 c
Meet customer or regulatory response time requirements
Concerning notification response
351
8.5.2.1 d
Retain documented information in appropriate format
In accordance with the reaction time constraints, cf. sub-clause 7.5.3.1
352
8.5.2.1 e
Ensure serialized identification of individual products
If specified by the customer or regulatory standards
353
8.5.2.1 f
Extend identification and traceability requirements to products with safety / regulatory characteristics
Concerning externally provided products
8.5.3

Property belonging to customers or external providers

See ISO 9001 v 2015 requirements
8.5.4

Preservation

beginning
See ISO 9001 v 2015 requirements
8.5.4.1

Preservation

supplemental

354
8.5.4.1
Include in preservation identification, handling, control of contamination, packaging, storage, transmission or transport and protection
Concerning production and service provision outputs
355
8.5.4.1
Apply preservation to materials and components from external or internal providers
From the receipt, through processing until acceptance by the customer
356
8.5.4.1
Assess, at appropriate planned intervals, the condition of product in stock, the storage container and environment
In order to detect any deterioration
357
8.5.4.1
Use an inventory management system to optimize inventory turns and ensure stock rotation
Such as FIFO (first in, first out)
358
8.5.4.1
Ensure that obsolete product is identified and controlled in a manner similar to that of nonconforming product
Cf. sub-clause 8.7.1
359
8.5.4.1
Comply with customer requirements
Concerning preservation, packaging, labelling and shipping
8.5.5

Post-delivery activities

See ISO 9001 v 2015 requirements
8.5.5.1

Feedback of information from service

360
8.5.5.1
Establish, implement and maintain a post-delivery service communication process
Cf. sub-clause 10.2.6
8.5.5.2

Service agreement with customer

361
8.5.5.2 a
Verify that relevant service centers meet applicable requirements
Internal, customer and regulatory requirements
362
8.5.5.2 b
Verify the effectiveness of any special purpose tools or measurement equipment
Cf. sub-clause 7.1.5.1
363
8.5.5.2 c
Ensure that all service personnel are trained in applicable requirements
Cf. sub-clause 7.2
8.5.6

Control of changes

beginning
See ISO 9001 v 2015 requirements
8.5.6.1

Control of changes

supplemental

364
8.5.6.1
Establish a documented process to control and react to changes
That can impact product realization
365
8.5.6.1
Assess the effects of any change
Including those caused by the organization, the customer or any external provider
366
8.5.6.1 a
Define verification and validation activities
In order to ensure meeting customer requirements
367
8.5.6.1 b
Validate changes before implementation
Sequence to be observed without exception
368
8.5.6.1 c
Document the evidence of related risk analysis
Cf. sub-clauses 7.5.3.1 and 6.1.2.1
369
8.5.6.1 d
Retain documented information of verification and validation
Cf. sub-clause 7.5.3.1
370
8.5.6.1
Require a production trial run for verification of changes including those performed at external providers
Such as changes to part design, manufacturing location or manufacturing process. The aim is to validate the impact of of any change on the manufacturing process.
371
8.5.6.1 e
Notify the customer of any planned product realization changes
After the most recent product approval
372
8.5.6.1 f
Obtain customer documented approval
Prior to any implementation of the change
373
8.5.6.1 g
Complete additional verification or identification requirements
Such as production trial run and new product validation
8.5.6.1.1

Temporary change of process controls

374
8.5.6.1.1
Identify, document and maintain a list of the process controls
Such as inspection, measuring, test, error-proofing devices, primary process control and approved back-up or alternate methods
375
8.5.6.1.1
Document the process that manages the use of alternate control methods
Use these methods after approval
376
8.5.6.1.1
Include in this process the internel approvals to be obtained
Before implementation of the alternate control method. Based on risk analysis (FMEA)
377
8.5.6.1.1
Obtain approval from the customer before shipping product
Inspect or test using the alternate method
378
8.5.6.1.1
Maintain and periodically review a list of approved alternate process control methods
Methods that are referenced in the control plan, cf. sub-clause 8.5.1.1
379
8.5.6.1.1
Ensure that standardized work instructions are available for each alternate process control method
Cf. sub-clause 7.5.3.1
380
8.5.6.1.1
Review the operation of alternate process controls
Such as daily quality focused audits
381
8.5.6.1.1
Verify implementation of standard work in order to return to the standard process as soon as possible
As defined in the control plan. Such as daily leadership meetings
382
8.5.6.1.1
Define and document a restart period with verification that all features of the error-proofing device or process are effectively reinstated
Cf. sub-clause 7.5.3.1
383
8.5.6.1.1
Implement traceability of all products produced while any alternate process control devices or processes are being used
Such as verification and retention of first piece and last piece from every shift
8.6

Release of products and services

beginning
See ISO 9001 v 2015 requirements
8.6.1

Release of products and services

supplemental

384
8.6.1
Ensure that the planned arrangements to verify that the product and service requirements have been met encompass the control plan
And are documented as specified in the control plan, cf. annex A. Conduct a regular control plan audit
385
8.6.1
Ensure that the planned arrangements for initial release of products and services encompass their approval
Cf. sub-clauses 8.1.1 and 8.3.4.4
386
8.6.1
Ensure that product or service approval is accomplished after changes following initial release
Cf. sub-clause 8.5.6
8.6.2

Layout inspection and functional testing

387
8.6.2
Perform for each product a layout inspection and a functional verification
To applicable customer engineering material and performance standard. Cf. sub-clause 8.5.1.1. The frequency of layout inspection is determined by the customer
388
8.6.2
Ensure that results are available for customer review
Cf. sub-clause 7.5.3.1
8.6.3

Appearance items

389
8.6.3 a
Provide, for appearance items, appropriate resources
Including lighting for evaluation
390
8.6.3 b
Provide, for appearance items, masters
For color, grain, gloss, metallic brilliance, texture, distinctness of image and haptic technology (science of touching by applying forces, vibrations or motions to the user)
391
8.6.3 c
Maintain and control appearance masters
Including equipment evaluation
392
8.6.3 d
Verify that personnel making appearance evaluations are competent and qualified to do so
Cf. sub-clause 7.2.2
8.6.4

Verification and acceptance of conformity of externally provided products and services

393
8.6.4 a
Establish a process to ensure the quality of externally provided processes, products and services by processing statistical data
Communicated by the external provider
394
8.6.4 b
Establish a process to ensure the quality of externally provided processes, products and services by receiving inspection
Such as sampling based on performance of provider
395
8.6.4 c
Establish a process to ensure the quality of externally provided processes, products and services by second or third-party assessments or audits of external provider's sites
Such as audits of external provider sites when coupled with documented information delivered conforming product
396
8.64 d
Establish a process to ensure the quality of externally provided processes, products and services by part evaluation by a designated laboratory
Cf. sub-clause 7.1.5.3
397
8.6.4 e
Establish a process to ensure the quality of externally provided processes, products and services by another method agreed with the customer
Such as specific external provider contract
8.6.5

Statutory and regulatory conformity

398
8.6.5
Confirm and be able to provide evidence that externally provided processes, products and services conform to the latest applicable statutory and regulatory requirements prior to release into production flow
This for the country of origin and the country of destination, if the information is provided by the customer
8.6.6

Acceptance criteria

399
8.6.6
Define internal acceptance criteria
When appropriate and required, approved by the customer
400
8.6.6
Use acceptance level at zero defects
For attribute data sampling, cf. sub-clause 9.1.1.1
8.7

Control of nonconforming outputs

8.7.1

See ISO 9001 v 2015 requirements
8.7.1.1

Customer authorization for concession

401
8.7.1.1
Obtain a customer concession prior to further processing whenever the product or process differs from those accepted
Prior to further processing
402
8.7.1.1
Obtain customer authorization prior to further processing
Prior to further processing for "use as is" or rework
403
8.7.1.1
Communicate clearly to the customer reuse of sub-components
In the request for concession (deviation permit)
404
8.7.1.1
Retain documented information of the expiration date or quantity authorized under concession
Cf. sub-clause 7.5.3.1
405
8.7.1.1
Ensure conformity with the original specifications when the authorization expires
Conformity with the original (as before concession)
406
8.7.1.1
Identify properly material shipped under concession on each shipping container
This identification applies also to purchased product
407
8.7.1.1
Approve any request from external provider
Before submission to the customer

8.7.1.2

Control of nonconforming product - customer-specified process

408
8.7.1.2
Comply with controls for nonconforming products
According to customer requirements
8.7.1.3

Control of suspected product

409
8.7.1.3
Ensure that product with unidentified or suspect status is classified and controlled as nonconforming product
Cf. sub-clause 8.7.1
410
8.7.1.3
Ensure that the appropriate manufacturing personnel receive training for containment of suspect and nonconforming product
Cf. sub-clause 7.2.2
8.7.1.4

Control of reworked product

411
8.7.1.4
Utilize risk analysis methodology (such as FMEA) to assess risks in the rework process
Prior to a decision to rework the product
412
8.7.1.4
Obtain customer approval, if required
Prior to commencing rework of the product
413
8.7.1.4
Establish a documented process for rework confirmation
Cf. sub-clauses 7.5.3.1 and 8.5.1.1
414
8.7.1.4
Ensure accessibility and use of disassembly and rework instructions by the appropriate personnel
Including re-inspection and traceability requirements, cf. sub-clauses 7.5.3.1 and 8.5.2
415
8.7.1.4
Retain documented information on the disposition of reworked product, quantity, date and applicable traceability information
Cf. sub-clauses 7.5.3.1 and 8.5.2
8.7.1.5

Control of repaired product

416
8.7.1.5
Utilize risk analysis methodology (such as FMEA) to assess risks in the repair process
Prior to a decision to repair the product
417
8.7.1.5
Obtain customer approval
Before commencing repair of the product
418
8.7.1.5
Establish a documented process for repair confirmation
In accordance with the control plan or other relevant documented information, cf. sub-clause 8.5.1.1
419
8.7.1.5
Ensure accessibility and use of disassembly and repair instructions by the appropriate personnel
Including re-inspection and traceability requirements, cf. sub-clauses 7.5.3.1 and 8.5.2
420
8.7.1.5
Obtain a documented customer authorization for concession
For the product to be repaired
421
8.7.1.5
Retain documented information on the disposition of repaired product, quantity, date and applicable traceability information
Cf. sub-clauses 7.5.3.1 and 8.5.2
8.7.1.6

Customer notification

421
8.7.1.6
Notify immediately the customer in the event that nonconforming product has been shipped
Cf. sub-clause 8.7.1
422
8.7.1.6
Follow the initial communication with detailed documentation of the event
Such as 8 D report
8.7.1.7

Nonconforming product disposition

423
8.7.1.7
Establish a documented process for disposition of nonconforming product
For product not subject to rework or repair
424
8.7.1.7
Verify that the product to be scrapped is rendered unusable
For nonconforming product not subject to rework or repair
425
8.7.1.7
Do not divert nonconforming product to service or other use
With out prior customer (written) approval
8.7.2

See ISO 9001 v 2015 requirements
9

Performance evaluation

Check
9.1

Monitoring, measurement, analysis and evaluation



9.1.1

General

See ISO 9001 v 2015 requirements
9.1.1.1

Monitoring and measurement of manufacturing processes

426
9.1.1.1
Perform process studies on all new manufacturing processes
In order to verify process capability and to provide additional data including those for special characteristics, cf. 8.3.3.3
427
9.1.1.1
Maintain manufacturing process capability or performance results
According to customer's part approval process requirements
428
9.1.1.1 a
Verify the implementation of the process flow diagram, PFMEA and control plan in accordance with measurement techniques
Cf. sub-clause 8.5.1.1
429
9.1.1.1 b
Verify the implementation of the process flow diagram, PFMEA and control plan in accordance with sampling plans
Cf. sub-clause 9.1.1.2
430
9.1.1.1 c
Verify the implementation of the process flow diagram, PFMEA and control plan in accordance with acceptance criteria
Cf. sub-clause 8.6.6
431
9.1.1.1 d
Verify the implementation of the process flow diagram, PFMEA and control plan in accordance with measurement values
Cf. sub-clause 8.6.2
432
9.1.1.1 e
Verify the implementation of the process flow diagram, PFMEA and control plan in accordance with reaction plans and escalation process
When acceptance criteria are not met, cf. sub-clause 8.6.6
433
9.1.1.1
Record and retain documented information on significant process events
Such as tool change or machine repair, cf. sub-clause 7.5.3.1
434
9.1.1.1
Initiate a reaction plan indicated on the control plan
When characteristics are either not statistically capable or are unstable, cf. sub-clause 8.5.1.1
435
9.1.1.1
Include in the reaction plans the containment of product
And their 100 percent inspection, as appropriate
436
9.1.1.1
Develop and implement a corrective action plan to ensure that the process becomes stable and statistically capable
With assigned responsibilities, specific actions and timing. Review all customer performance measures to reduce risk of failure to achieving objectives
437
9.1.1.1
Review the plans with and approved by the customer, when required
Cf. sub-clause 10.2
438
9.1.1.1
Retain documented information of effective dates of process changes
Cf. sub-clause 7.5.3.1
9.1.1.2

Identification of statistical tools

439
9.1.1.2
Determine the appropriate use of statistical tools
Cf. annex B
440
9.1.1.2
Verify that appropriate statistical tools are included in the QMS
Such as APQP, DFMEA (design or product FMEA) and PFMEA

9.1.1.3

Application of statistical concepts

441
9.1.1.3
Understand and use statistical concepts by employees involved in the collection, analysis and management of statistical data
Such as variation, stability, process capability and the consequences of over-adjustment
9.1.2

Customer satisfaction

beginning
See ISO 9001 v 2015 requirements
9.1.2.1

Customer satisfaction

supplemental

442
9.1.2.1
Monitor customer satisfaction through continual evaluation of internal and external performance indicators
In order to ensure product and process conformity
443
9.1.2.1
Base performance indicators on objective evidence
Cf. sub-clause 6.2.2.1
444
9.1.2.1 a
Include delivered part quality performance
Cf. sub-clause 6.2.2.1
445
9.1.2.1 b
Include customer disruptions
Cf. sub-clause 10.2.6
446
9.1.2.1 c
Include field returns, recalls and warranty claims
Cf. sub-clause 10.2.6
447
9.1.2.1 d
Include delivery schedule performance
Including premium freight
448
9.1.2.1 e
Include special status notifications
Notifications related to quality or delivery issues
449
9.1.2.1
Monitor the performance of manufacturing processes
Such as requirements for product quality and process efficiency
450
9.1.2.1
Include in the monitoring the review of customer performance data
Including online customer portals and scorecards, where provided. Cf. sub-clause 8.4.2.4
9.1.3

Analysis and evaluation

See ISO 9001 v 2015 requirements

9.1.3.1

Prioritization

451
9.1.3.1
Compare quality trends and operational performance with progress towards objectives and lead to action to support prioritization of actions
In order to improve customer satisfaction. Cf. sub-clause 9.1.2.1. Prioritization of actions should be based on performance and risk management
9.2

Internal audit

9.2.1 and 9.2.2

See ISO 9001 v 2015 requirements
9.2.2.1

Internal audit program

452
9.2.2.1
Establish a documented internal audit process
Cf. sub-clause 7.5.3.1
453
9.2.2.1
Develop and implement an internal audit program that covers the entire QMS
Such as QMS, manufacturing process and product audits
454
9.2.2.1
Establish the audit program prioritized upon risk, internal and external performance trends and process criticality
And also process complexity
455
9.2.2.1
Include in the audit program software development capability assessments
When the organization is responsible for software development, cf. sub-clause 8.3.2.3
456
9.2.2.1
Review and, where appropriate, adjust the frequency of audits
Based on occurrence of process changes, nonconformities and customer complaints
457
9.2.2.1
Review the effectiveness of the audit program
As part of the management review. Cf. sub-clause 9.3
9.2.2.2

QMS audit

458
9.2.2.2
Audit all QMS processes over each three-year calendar period
In order to veify conformity with the IATF 16949 standard
459
9.2.2.2
Sample customer-specific QMS requirements
In order to verify their effective implementation, cf. sub-clause 4.3.2
9.2.2.3

Manufacturing process audit

460
9.2.2.3
Audit all manufacturing processes over each three-year calendar period
In order to determine their effectiveness and efficiency
461
9.2.2.3
Determine the approach to be used
When the customer does not require a specific approach
462
9.2.2.3
Plan for each manufacturing process to audit all shifts assigned to this process
Including the appropriate sampling of the shift handover
463
9.2.2.3
Include in the manufacturing process audit an audit of the implementation of the process risk analysis, control plan and associated documents
Cf. sub-clauses 6.1.2.1, 8.5.1.1 and 7.5.3.1
9.2.2.4

Product audit

464
9.2.2.4
Audit products using customer-specific approaches to verify that requirements are met
At appropriate stages of production and delivery
465
9.2.2.4
Define the approach to be used
When the customer has not defined a specific approach
9.3

Management review

9.3.1

General

See ISO 9001 v 2015 requirements
9.3.1.1

Management review

supplemental

466
9.3.1.1
Conduct management review at least annually
And by planning its date. A monitoring system can be used, with criteria that trigger special management review
467
9.3.1.1
Increase the frequency of management review
Based on risks of nonconformity, the impact of changes, performance issues
9.3.2

Management review inputs

beginning
See ISO 9001 v 2015 requirements
9.3.2.1

Management review inputs

supplemental
468
9.3.2.1 a
Include in the inputs of the management review the costs of poor quality
Cf. sub-clause 8.7.1
469
9.3.2.1 b
Include in the inputs of the management review the measures of process effectiveness
Cf. sub-clause 5.1.1.2
470
9.3.2.1 c
Include in the inputs of the management review the measures of process efficiency
Cf. sub-clause 5.1.1.2
471
9.3.2.1 d
Include in the inputs of the management review product conformity
Cf. sub-clause 8.5.1
472
9.3.2.1 e
Include in the inputs of the management review the assessments of manufacturing feasibility
Following changes to existing operations and for new facilities or new product, cf. sub-clause 7.1.3.1
473
9.3.2.1 f
Include in the inputs of the management review customer satisfaction
Cf. sub-clause 9.1.2
474
9.3.2.1 g
Include in the inputs of the management review of performance
Against maintenance objectives
475
9.3.2.1 h
Include in the inputs of the management review warranty performance
Cf. sub-clause 10.2.5
476
9.3.2.1 i
Include in the inputs of the management review review of customer scorecards
Cf. sub-clause 8.4.2.4
477
9.3.2.1 j
Include in the inputs of the management review identification of potential field failures
Via risk analysis such as process FMEA
478
9.3.2.1 k
Include in the inputs of the management review the actual field failures
And their impact on safety or the environment
479
9.3.2.1 l
Include in the inputs of the management review the measurement results of design and development
At specified stages. Cf. sub-clause 8.3.4.1
9.3.3

Management review outputs

See ISO 9001 v 2015 requirements
9.3.3.1

Management review outputs

supplemental

479
9.3.3.1
Document and implement an action plan
When customer performance objectives are not achieved. This will support the continual analysis of process performance and risk
10

Improvement

Act)
10.1

General

See ISO 9001 v 2015 requirements
10.2

Nonconformity and corrective action

10.2.1 and 10.2.2

See ISO 9001 v 2015 requirements
10.2.3

Problem solving

480
10.2.3
Establish a documented process for problem solving
Cf. sub-clauses 6.1.2.2 and 10.2.6
481
10.2.3 a
Define approaches for various types and scale of problems
Such as new product development, current manufacturing issues, field failures, audit findings
482
10.2.3 b
Ensure containment, interim actions and related activities
In order to control nonconforming products, cf. sub-clause 8.7
483
10.2.3 c
Analyze root causes, methodology used and results
Cf. sub-clause 10.2.1
484
10.2.3 d
Implement systematic corrective actions
Including consideration of the impact on similar processes and products, cf. sub-clause 10.2.1
485
10.2.3 e
Verify the effectiveness of implemented corrective actions
Cf. sub-clause 10.2.1
486
10.2.3 f
Review and, when necessary, update the appropriate documented information
Such as PFMEA and control plan
487
10.2.3
Use specific customer-approved problem solving processes, tools or systems
Such as 8 D report. Or obtain approval of the customer for other problem solving processes, tools or systems
10.2.4

Error-proofing

488
10.2.4
Establish a documented process to determine the use of appropriate error-proofing methodologies
Cf. sub-clause 7.5.3.1
489
10.2.4
Document details of the method used in the process risk analysis
Such as PFMEA
490
10.2.4
Document test frequency in the control plan
Cf. sub-clause 8.5.1.1
491
10.2.4
Include the testing of error-proofing devices for failure
Failures can be simulated or not
492
10.2.4
Retain documented information on testing
Cf. sub-clause 7.5.3.1
493
10.2.4
Identify, control, verify and calibrate (where feasible) challenge parts
Cf. annex A, process control
494
10.2.4
Develop a reaction plan for error-proofing device failures
Cf. annex A, reaction plan and corrective action
10.2.5

Warranty management systems

495
10.2.5
Implement a warranty management process
When the organization provides warranty for their products
496
10.2.5
Include in this process a method for warranty part analysis
Including NTF (no trouble found)
497
10.2.5
Implement the required warranty management process
When specified by the customer
10.2.6

Customer complaints and field failure test analysis

498
10.2.6
Perform analysis on customer complaints and field failures and returns
Including any returned parts
499
10.2.6
Initiate problem solving and corrective action
In order to prevent problem recurrence
500
10.2.6
Include analysis of the interaction of embedded software within the system of the final customer's product
When requested by the customer. Cf. sub-clause 8.3.2.3
501
10.2.6
Communicate the results of testing and analysis to the customer
And internally
10.3

Continual improvement

See ISO 9001 v 2015 requirements
10.3.1

Continual improvement

supplemental

502
10.3.1
Establish a documented process for continual improvement
Only after the manufacturing process is under control. In order to seize opportunities for improvement
503
10.3.1 a
Include in this process identification of the methodology used, objectives, measurement, effectiveness and documented information
Cf. sub-clauses 5.1.1, 6.2.2.1 and 7.5.3.1
504
10.3.1 b
Include in this process a manufacturing process improvement action plan
Based on the reduction of process variation and waste
505
10.3.1 c
Include in this process risk analysis
Such as FMEA
annex A

Control plan

A.1

Phases of the control plan

506
A.1
Cover three distinct phases
Prototype, pre-launch and production control plans
507
A.1 a
Include in the prototype control plan a description of the dimensional measurements, material and performance tests
Performed during building of the prototype
508
A.1 a
Implement a prototype control plan
If required by the customer
509
A.1 b
Include in the pre-launch control plan a description of the dimensional measurements, material and performance tests
Performed after prototype and before full production
510
A.1 c
Include in the production control plan documentation of product and process characteristics, process controls, tests and measurement systems
Performed during mass production
511
A.1
Establish a control plan at a part number level
Or by family of similar parts resulting from a common process