ISO 27001 requirements version 2013
You want to familiarize yourself with the structure of the standard, identify and understand the requirements of ISO 27001 version 2013, then it's up to you to play!

Start
The quiz "ISO 27001 Requirements of version 2013" will help you understand the main requirements of the standard.
The questions (requirements) for this quiz are 69, don't panic. The requirements of the standard are 252 but these 69 requirements are among the most important, so don't hesitate to learn in a fun way!
Don't think that you can complete this quiz in less than an hour, or even two hours, unless of course you are a little genius!
The 252 requirements (shall, shall) of clauses 4 to 10 and annex A of ISO 27001 are broken down as follows: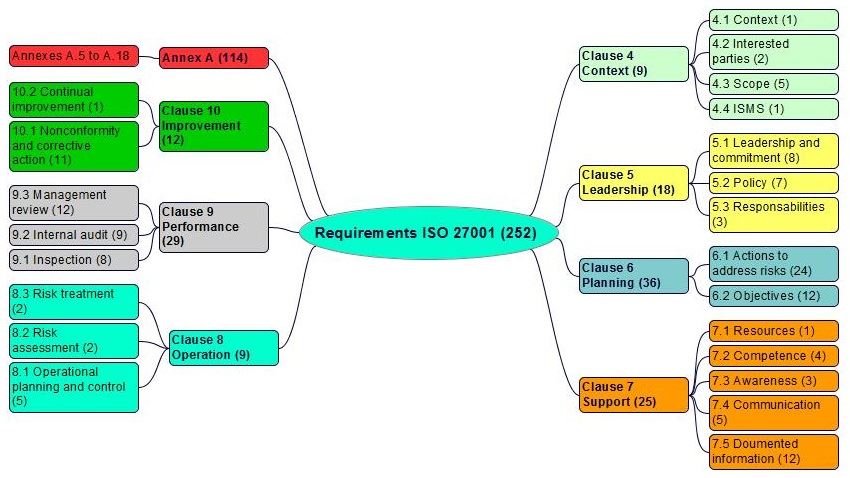 Requirements in ISO 27001 clauses, sub-clauses and annex A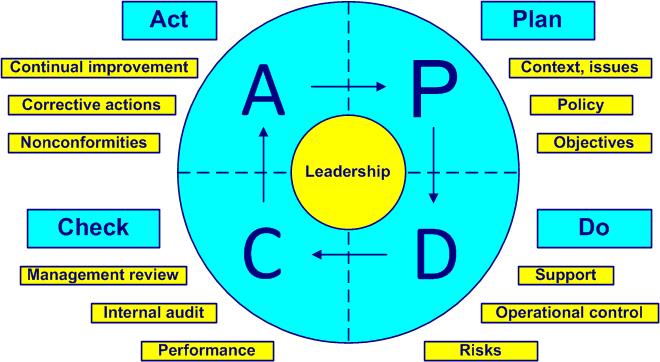 Deming PDCA cycle
Note. Any requirement normally begins with "The organization shall ...". For simplicity we present the requirements directly starting with the verb.
ISO 27001 - Requirements and comments

PDCA cycle, links, comments

Context


4.1

The organization and its context

1

4.1

Determine external and internal issues
Understand everything that can influence the purpose (mission) of the company (corporate culture, innovation, strategic orientation, competition, market, obligations, working time, working conditions) and its ability to obtain the expected results of the ISMS. See sub-clauses 6.1 and 7.5.1

4.2

Interested parties


2

4.2 a

Determine interested parties
Concerned with the ISMS, such as laws, contracts and others. See sub-clause 7.5.1
3
4.2 b
Determine needs and expectations
Interested parties relating to information security requirements and obligations

4.3

Scope

4


4.3

Determine the scope of the ISMS
(Administrative) limits and applicability
5
4.3 a
Take into account external and internal issues

"To determine hazards is to reduce risks"

. Cf. sub-clause 4.1
6
4.3 b
Take into account the requirements of interested parties
When changing processes, requirements, infrastructure. See sub-clause 4.2
7
4.3 c
Take into account the profesional interfaces

"No-risk situations do not exist"

. Interactivity of internal activities and those of other organizations
8
4.3
Make the scope available as documented information
Cf. sub-clause 7.5.1

4.4

Information security management system

9
4.4
Establish, implement and maintain and improve the ISMS

"If you cannot describe what you are doing as a process, you do not know what you're doing". Edwards Deming.

In accordance with the requirements of ISO 27001. Information security manual, cf. sub-clause 7.5.1

5

Leadership

5.1

Leadership and commitment

10
5.1 a
Ensure that the information security policy and objectives are established

"When you sweep the stairs, you start at the top. Romanian proverb." Ensure compatibility with strategic direction. Top management is showing leadership. Affirm top management's commitment to the ISMS

11
5.1 b
Ensure that ISMS requirements are integrated into business processes
Show leadership
12
5.1 c
Ensure that the necessary resources for the ISMS are available
Resources to establish, apply, maintain and improve the ISMS. Cf. sub-clause 4.4
13
5.1 d
Communicate on the importance of an effective ISMS
And comply with the requirements of ISO 27001
14
5.1 e
Ensure that the ISMS achieves the intended results
Commitment, responsiveness and active support from top management
15
5.1 f

Guide and support people

In order to contribute to the performance of the ISMS
16
5.1 g
Promote continual improvement

"Employees first, customers second. Vineet Nayar."

Show leadership. Cf. clause 10
17
5.1 h
Help those affected to show leadership
When necessary for their area of responsibility

5.2

Policy

18
5.2 a
Establish an information security policy
Taking into account the mission of the organization. Keep the policy up to date. Cf. sub-clause 7.5.1
19
5.2 b
Provide a framework for establishing information security objectives
Cf. sub-clause 6.2
20
5.2 c
Commit to meet applicable requirements
Regarding information security
21
5.2 d
Commit to continual improvement of the ISMS
Cf. clause 10
22
5.2 e
Make the information security policy available as documented information
Cf. sub-clause 7.5.1
23
5.2 f
Communicate the information security policy
At all levels of the organization
24
5.2 g
Keep the information security policy available to interested parties
If applicable

5.3

Roles, responsibilities and authorities

25
5.3
Ensure that responsibilities and authorities for the ISMS are assigned
And communicated at all levels of the organization.

"Responsibility cannot be shared. Robert Heinlein"

. Cf. sub-clause 7.5.1
26
5.3 a
Ensure that the ISMS meets the requirements of the ISO 27001 standard
And who has the responsibility and authority at all levels of the organization. Remember that in the end top management is fully responsible (cf. sub-clause 5.1)
27
5.3 b
Submit reports on ISMS performance to top management on a regular basis
By assigning responsibility and authority by name, cf. sub-clause 7.5.1

6

Planning

6.1

Actions to address risks

6.1.1

General

28
6.1.1 a
Determine risks and opportunities
In order to ensure that the ISMS can achieve the expected results. Cf. sub-clause 4.1 for issues and sub-clause 4.2 for requirements. An inventory of the situation is always useful before planning.

"Any decision involves a risk. Peter Barge"

29
6.1.1 b
Determine risks and opportunities
In order to anticipate or reduce side effects
30
6.1.1 c
Determine risks and opportunities
In order to be part of the continual improvement process, cf. clause 10
31
6.1.1 d
Plan actions to address these risks and opportunities
Cf. sub-clause 6.1.3
32
6.1.1 e 1
Plan how to integrate and implement the necessary actions
For all processes of the ISMS
33
6.1.1 e 2
Plan how to assess the effectiveness of actions taken
Cf. sub-clause 6.1.3

6.1.2

Risk assessment

34
6.1.2 a 1
Apply an information security risk assessment process
By establishing and maintaining acceptance criteria
35
6.1.2 a 2
Apply an information security risk assessment process
By establishing and updating the criteria for carrying out assessments
36
6.1.2 b
Apply an information security risk assessment process
By ensuring that the repetition of risk assessments leads to consistent, valid and comparable results
37
6.1.2 c 1
Apply an information security risk assessment process
By identifying the risks associated with the loss of confidentiality, integrity and availability of information
38
6.1.2 c 2
Apply an information security risk assessment process
By identifying the risk owners
39
6.1.2 d 1
Apply an information security risk assessment process

By analyzing the risks and the potential consequences of risks in 6.1.2 c 1 materializing

40
6.1.2 d 2
Apply an information security risk assessment process
By analyzing the risks and assessing the likelihood of occurrence of the risks identified in 6.1.2 c 1
41
6.1.2 d 3
Apply an information security risk assessment process
By analyzing risks and determining risk levels
42
6.1.2 e 1
Apply an information security risk assessment process
By evaluating the risks and comparing the results of the risk analysis with the criteria in 6.1.2 a
43
6.1.2 e 2
Apply an information security risk assessment process
By evaluating the risks and prioritizing the analyzed risks
44
6.1.2
Retain documented information on the information security risk assessment process
Cf. sub-clause 7.5.1

6.1.3

Risk treatment

45
6.1.3 a
Apply an information security risk treatment process
In order to choose the risk treatment options taking into account the results in 6.1.2
46
6.1.3 b
Apply an information security risk treatment process
In order to determine the necessary measures to be taken for the chosen option
47
6.1.3 c
Apply an information security risk treatment process
In order to compare the measurements determined in 6.1.3 b and those of annex A of ISO 27001
48
6.1.3 d
Apply an information security risk treatment process
In order to produce a statement of applicability including the necessary measures (cf. 6.1.3 b and c), the justification for their inclusion, their implementation (or not), the justification for the exclusion of controls from Annex A of ISO 27001
49
6.1.3 e
Apply an information security risk treatment process
In order to develop a risk treatment plan, cf. sub-clause 6.2
50
6.1.3 f
Apply an information security risk treatment process
In order to obtain from the risk owners the validation of the risk treatment plan and the acceptance of residual risks
51
6.1.3
Retain documented information on the information security risk treatment process
Cf. sub-clause 7.5.1

6.2

Objectives

52
6.2
Establish information security objectives
For all functions and levels in the organization
53
6.2 a
Determine information security objectives
Consistent with the organization's information security policy
54
6.2 b
Determine information security objectives
Measurables, if possible
55
6.2 c
Determine information security objectives
Taking into account the requirements applicable to information security, the results of the risk assessment and treatment
56
6.2 d
Determine information security objectives
And communicate them, cf. sub-clause 7.4
57
6.2 e
Determine information security objectives
And update them, if appropriate
58
6.2
Retain documented information on objecives
Related to information security, including the objective achievement plan, cf. sub-clause 7.5.1
59
6.2 f
Determine when planning information security objectives
What will be dona
60
6.2 g
Determine when planning information security objectives
The necessary resources
61
6.2 h
Determine when planning information security objectives
The responsible
62
6.2 i
Determine when planning information security objectives
The deadlines
63
6.2 j
Determine when planning information security objectives
How the results will be evaluated

7

Support

7.1

Resources

64

7.1

Identify and provide the resources needed
In order to establish, apply, maintain and improve the ISMS. Resources provided, cf. sub-clause 7.5.1

7.2

Competence

65
7.2 a
Determine the necessary competence of the people involved
Those involved can affect information security performance
66
7.2 b
Ensure that these people are competent
On the basis of initial and professional training and experience
67
7.2 c
Take actions to acquire and keep the necessary competence updated
And evaluate the effectiveness of these actions. Actions include training, but also supervision, reassignment and recruitment of competent people
68
7.2 d
Retain documented information on competence
Cf. sub-clause 7.5.1 like the competence development plan

7.3

Awareness

69

7.3 a

Make people aware of the information security policy and objectives
Cf. sub-clauses 5.2 and 6.2. Awareness enhancement plan, cf. sub-clause 7.5.1
70
7.3 b
Make people aware of the importance of their contribution to the effectiveness of the ISMS
And the beneficial effects of improved performance of the ISMS
71
7.3 c
Make people aware of the repercussions and consequences of not conforming with ISMS requirements
Do not forget the potential consequences on all professional activities

7.4

Communication

72
7.4 a
Determine internal and external communication needs
Including on which subjects, communication improvement plan, cf. sub-clause 7.5.1
73
7.4 b
Determine internal and external communication needs
Including when
74
7.4 c
Determine internal and external communication needs
Including with whom
75
7.4 d
Determine internal and external communication needs
Including who shall communicate
76
7.4 e
Determine internal and external communication needs
Including the communication processes

7.5

Documented information

7.5.1

General

77
7.5.1 a
Include in the ISMS the documented information required by ISO 27001

Information security manual (sub-clause 4.4)

Documented information to maintain (procedures):

Policies:

Documented information to retain (records):


78
7.5.1 b
Include documented information deemed necessary for the effectiveness of the ISMS

This documented information is specific in relation to the size of the organization, to the field of activity, to the complexity of the processes and their interactions to the competence of the personnel

7.5.2

Creating and updating

79
7.5.2 a
Identify and describe the documented information appropriately
When creating and updating. As title, author, date, codification
80
7.5.2 b
Ensure that the format and media of the documented information is appropriate
Examples of formats: language, software version and graphics. Examples of media: paper, electronic
81
7.5.2 c
Review and validate documented information appropriately
In order to determine their relevance and suitability

7.5.3

Control of documented information

82
7.5.3 a
Control documented information so that it is available and suitable for use
When and where needed. According to the requirements of the ISMS and the ISO 27001 standard
83
7.5.3 b
Control documented information so that it is properly protected
As loss of confidentiality, improper use or loss of integrity
84
7.5.3 c
Apply distribution, access, retrieval and usage activities
In order to control the documented information
85
7.5.3 d
Apply storage and preservation activities
Including legibility preservation
86
7.5.3 e
Apply change control activities
Like version control
87
7.5.3 f
Apply retention and disposition activities
By determining for each documented information the retention period and the way of disposal
88
7.5.3
Identify and control documented information of external origin
List of documented information deemed necessary for the planning and operation of the ISMS, including that of external origin. Cf. sub-clause 7.5.1

8

Operation

Do

8.1

Planning and control

89

8.1
Plan, apply, control and maintain the processes necessary to meet the requirements of the ISMS
By establishing criteria for these processes and carrying out specific actions in the sub-clause 6.1
90
8.1
Apply plans to achieve information security objectives
By controlling these processes in accordance with sub-clause 6.2
91
8.1
Retain documented information on the necessary processes
In order to ensure that the processes are carried out as planned. Cf. sub-clause 7.5.1
92
8.1
Control planned changes and analyze unforeseen changes
By taking actions to limit any negative impact. Cf. sub-clause 7.5.1
93
8.1
Ensure that outsourced processes are identified
And controlled

Risk assessment

94
8.2
Assess information security risks regularly
Taking into account the criteria established in 6.1.2 a
95
8.2
Retain documented information on the results of the risk assessment
Cf. sub-clause 7.5.1

Risk treatment

96
8.3
Apply the risk treatment plan
In accordance with sub-clause 6.2
97
8.3
Retain documented information on the results of the risk treatment
Cf. sub-clause 7.5.1

9

Performance

9.1

Inspection

98
9.1
Evaluate the information security performance
And the effectiveness of the ISMS
99
9.1 a
Determine what to inspect (monitor and measure)
Including information security processes and measures
100
9.1 b
Determine inspection methods
Including analysis and evaluation to ensure the validity of the results. Any valid result is comparable and reproducible
101
9.1 c
Determine when to inspect
The points where monitoring and measurement are carried out
102
9.1 d
Determine who performs the inspection
The person responsible for the inspection
103
9.1 e
Determine when to analyze inspection results
And the moment of evaluation of these results
104
9.1 f
Determine who analyzes the results
And the person responsible for evaluating the results
105
9.1
Retain documented information on inspection results
Cf. sub-clause 7.5.1

9.2

Internal audit

106
9.2 a 1
Perform internal audits at scheduled intervals to provide information to determine whether the ISMS meets organizational requirements
Including policy and objectives, cf. sub-clauses 5.2 and 6.2
107
9.2 a 2
Perform internal audits at scheduled intervals to provide information to determine whether the ISMS meets ISO 27001 requirements
Requirements in clauses 4 to 10 of the standard
108
9.2 b
Perform internal audits at scheduled intervals to provide information to determine whether the ISMS is being applied effectively
Cf. management review, sub-clause 9.3
109
9.2 c
Plan, establish, apply and maintain the audit program
Including frequency, methods, responsibilities, planning and reporting requirements. Follow the recommendations of ISO 19011
110
9.2 c
Take into account in the audit program the importance of the processes
And results of previous audits
111
9.2 d
Define the audit criteria
And the scope of each audit. Follow the recommendations of ISO 19011
112
9.2 e
Select auditors
In order to carry out objective and impartial audits. Follow the recommendations of ISO 19011
113
9.2 f
Report the results of the audits
To the direction concerned
114
9.2 g
Retain documented information on the application of the audit program
And audit results, cf. sub-clause 7.5.1

9.3

Management review

115
9.3
Review the ISMS at scheduled intervals
To ensure that the ISMS is still appropriate, adequate and effective.

"No system is perfect"

116
9.3 a
Take into consideration the progress of actions decided during the previous management review
Use the latest management review report
117
9.3 b
Take into consideration the modifications of the relevant issues for the ISMS
Like the needs and expectations of interested parties, cf. sub-clause 4.2
118
9.3 c 1
Take into consideration feedback on information security performance
Including nonconformities and corrective actions, cf. sub-clause 10.1
119
9.3 c 2
Take into account the results of the inspection assessment
Cf. sub-clause 9.1
120
9.3 c 3
Take into account audit results
Cf. sub-clause 9.2
121
9.3 c 4
Take into account information on the achievement of objectives
And achievement of objectives, cf. sub-clause 6.2
122
9.3 d
Take into account feedback from interested parties
Cf. sub-clause 4.2
123
9.3 e
Take into account the results of the risk assessment
And the progress of the risk treatment plan, cf. sub-clause 6.1
124
9.3 f
Take into consideration opportunities for continual improvement
Cf. sub-clause 10.2
125
9.3
Include decisions on improvement opportunities in the conclusions of the management review
And any changes to the ISMS
126
9.3
Retain documented information on the conclusions of the management review
Cf. sub-clause 7.5.1

10

Improvement

10.1

Nonconformity and corrective action

127
10.1 a 1
React quickly when a nonconformity appears
In order to be able to control and correct
128
10.1 a 2
React quickly when a nonconformity appears
In order to face the consequences
129
10.1 b 1
Evaluate the need for corrective action by reviewing the nonconformity
Corrective action eliminates the root causes so that it does not happen again
130
10.1 b 2

Evaluate the need for corrective action by determining the root cause of the nonconformity

Or the root causes of nonconformity
131
10.1 b 3

Evaluate the need for corrective action by determining if similar nonconformities have occurred

Or could happen
132
10.1 c
Determine and apply all the necessary actions
Including corrective actions
133
10.1 d
Review the effectiveness of any action taken
Including any corrective action
134
10.1 e
Change the ISMS
If that is necessary
135
10.1
Carry out corrective actions appropriate to the actual or potential consequences
In relation to the nonconformities that appeared
136
10.1 f
Retain documented information on the nature of nonconformities
And any action taken, cf. sub-clause 7.5.1
137
10.1
Retain documented information on the results of corrective actions
Cf. sub-clause 7.5.1

Continual improvement

138
10.3 a
Continually improve the suitability, adequacy and effectiveness of the ISMS
By improving overall performance, ISMS improvement plan, cf. sub-clause 7.5.1

Annex A (normative)

A.5 Information security policies

139
A.5.1.1
Define information security policies
Approved by top management, distributed and communicated to interested parties. Cf. sub-clause 7.5.1
140
A.5.1.2
Review information security policies
At scheduled intervals to ensure their relevance, adequacy and effectiveness

A.6 Organization of information security

141
A.6.1.1
Define and assign all responsibilities
In relation to information security. Cf. sub-clause 7.5.1
142
A.6.1.2
Segregate incompatible duties and areas of responsibility
In order to limit the possibilities of modification or misuse of the assets of the organization
143
A.6.1.3
Maintain appropriate relationships
With the competent authorities, cf. sub-clause 7.5.1
144
A.6.1.4
Maintain appropriate relationships
With interest groups, specialized forums and associations
145
A.6.1.5
Consider information security in project management
For all types of projects
146
A.6.2.1
Adopt a policy and additional security measures
In order to manage the risks of using mobile devices. Cf. sub-clause 7.5.1
147
A.6.2.2
Establish a policy and additional security measures
In order to protect information at teleworking sites. Cf. sub-clause 7.5.1

A.7 People security

148
A.7.1.1
Perform checks on all candidates for hire
In accordance with laws, regulations, ethics and be proportionate to business requirements, information and identified risks. Cf. sub-clause 7.5.1
149
A.7.1.2
Specify the responsibilities of agreements between employees and subcontractor
In relation to information security
150
A.7.2.1
Request from top management that all employees and subcontractors apply the information security rules
In accordance with the policies and procedures in force. Cf. sub-clause 7.5.1
151
A.7.2.2
Benefit from awareness-raising and adapted training for all employees and subcontractors
And receive regular updates on policies and procedures. Cf. sub-clause 7.5.1
152
A.7.2.3
Apply a formal disciplinary process known to all
In order to take action against those who have violated the rules related to information security. Cf. sub-clause 7.5.1
153
A.7.3.1
Define and apply responsibilities and missions related to information security
Which remain valid at the end of the breach, the term or the modification of the employment contract. Cf. sub-clause 7.5.1

A.8 Asset management

154
A.8.1.1
Identify information and other assets associated with information and information processing means
Establish and maintain an inventory of these assets. Cf. sub-clause 7.5.1
155
A.8.1.2
Assign assets in inventory to an owner
Every asset must have its owner
156
A.8.1.3
Identify, document and apply the rules for the correct use of information, assets associated with information
Including the means of processing information. Cf. sub-clause 7.5.1
157
A.8.1.4
Return all of the organization's assets at the end of the term of employment, contract or agreement
This concerns all employees and third-party users
158
A.8.2.1
Classify information in terms of legal requirements, value, criticality and sensitivity
Regarding unauthorized disclosure or modification. Cf. sub-clause 7.5.1
159
A.8.2.2
Develop and apply information labeling procedures
According to the "house" classification plan. Cf. sub-clause 7.5.1
160
A.8.2.3
Develop and apply information processing procedures
According to the "house" classification plan. Cf. sub-clause 7.5.1
161
A.8.3.1
Apply removable media management procedures
According to the "house" classification plan. Cf. sub-clause 7.5.1
162
A.8.3.2
Securely dispose of media that are no longer needed
By using formal procedures. Cf. sub-clause 7.5.1
163
A.8.3.3
Protect media containing information
Against unauthorized access, user errors and tampering during transport. Cf. sub-clause 7.5.1

A.9 Access control

164
A.9.1.1
Establish, document and review an access control policy
In accordance with business requirements and information security, cf. sub-clause 7.5.1
165
A.9.1.2

Should only have access users who have received specific authorization

Regarding networks and network services. Cf. sub-clause 7.5.1
166
A.9.2.1
Apply a formal user registration and de-registration process
In order to allow the allocation of access rights. Cf. sub-clause 7.5.1
167
A.9.2.2
Apply a formal process for distributing access to users
In order to assign and withdraw access rights to all types of users. Cf. sub-clause 7.5.1
168
A.9.2.3
Restrict and control the allocation of privileged access rights
Including their use
169
A.9.2.4
Assign secret authentication information
As part of a formal management process. Cf. sub-clause 7.5.1
170
A.9.2.5
Check user access rights at regular intervals
From asset owners. Cf. sub-clause 7.5.1
171
A.9.2.6
Remove the rights of access to information and the means of processing information from employees and third-party users at the end of their period of employment
Or adapted in case of modification of either the contract or the agreement
172
A.9.3.1
Follow, on the part of users, the practices of the organization
Regarding the use of secret authentication information
173
A.9.4.1
Restrict access to information and system application functions
In accordance with the access control policy
174
A.9.4.2
Control access to systems and applications through a secure log-on procedure
When the access control policy requires it. Cf. sub-clause 7.5.1
175
A.9.4.3
Use systems that manage interactive passwords
And guarantee the quality of passwords. Cf. sub-clause 7.5.1
176
A.9.4.4
Limit and control the use of utility programs to bypass system controls
Or application controls. Cf. sub-clause 7.5.1
177
A.9.4.5
Restrict access to program source code
Limit and control this access. Reserved for internal development

A.10 Cryptography

178
A.10.1.1
Develop and apply a policy on the use of cryptographic controls
In order to protect information. Cf. sub-clause 7.5.1
179
A.10.1.2
Develop and apply a policy on the use, protection and lifetime of cryptographic keys
Throughout their life cycle. Cf. sub-clause 7.5.1

A.11 Physical and environmental security

180
A.11.1.1
Define and use physical security perimeters
In order to protect secure areas concerning sensitive or critical information and information processing means. Cf. sub-clause 7.5.1
181
A.11.1.2
Protect secure areas with adequate entry controls
In order to ensure that only authorized personnel are admitted. Cf. sub-clause 7.5.1
182
A.11.1.3
Design and apply physical security measures
To offices, rooms and equipment
183
A.11.1.4
Design and apply physical security measures
Against natural disasters, malicious attacks or accidents. Cf. sub-clause 7.5.1
184
A.11.1.5
Design and apply procedures for working
In secure areas. Cf. sub-clause 7.5.1
185
A.11.1.6
Control and, if possible, isolate access points such as delivery and loading areas and other sensitive points from information processing means
In order to prevent unauthorized access. Cf. sub-clause 7.5.1
186
A.11.2.1
Locate and protect equipment
In order to reduce the risks associated with environmental threats and hazards and unauthorized access. Cf. sub-clause 7.5.1
187
A.11.2.2
Protect equipment from power cuts and other disturbances
Related to general service failures
188
A.11.2.3
Protect electrical or telecommunications cables carrying data or supporting information services
Against any interception or damage. Cf. sub-clause 7.5.1
189
A.11.2.4
Maintain equipment correctly
In order to guarantee their permanent availability and their integrity. Cf. sub-clause 7.5.1
190
A.11.2.5
Prevent any removal of assets from premises
Without prior authorization. Cf. sub-clause 7.5.1
191
A.11.2.6
Apply security measures for equipment used outside the organization's premises
Taking into account specific off-site risks
192
A.11.2.7
Check all components of materials containing storage media before disposal or re-use
To ensure that all sensitive data has been deleted and that any licensed software has been securely uninstalled or overwritten. Cf. sub-clause 7.5.1
193
A.11.2.8
Ensure, on the part of users, that unattended equipment is provided with appropriate protection
Applies to any material left unattended
194
A.11.2.9
Adopt a clear desk policy
And locked screens. Cf. sub-clause 7.5.1

A.12 Operations security

195
A.12.1.1
Document operational procedures
And make them available to all affected users, cf. sub-clause 7.5.1
196
A.12.1.2
Control changes to the organization, business processes, information processing systems and resources
Changes affecting information security. Cf. sub-clause 7.5.1
197
A.12.1.3
Monitor and tune use of resources and make projections on future capacity
In order to guarantee the required performance of the ISMS
198
A.12.1.4
Separate development, test and operational environments
In order to reduce the risk of access or authorized changes
199
A.12.2.1
Apply detection, prevention and recovery controls with appropriate user awareness
In order to protect against malware. Cf. sub-clause 7.5.1
200
A.12.3.1
Take and regularly test backup copies of information, software and system images
In accordance with the established backup policy. Cf. sub-clause 7.5.1
201
A.12.4.1
Create, maintain and regularly verify event logs recording user activities, exceptions, failures and information security events
In relation to information security. Cf. sub-clause 7.5.1
202
A.12.4.2
Protect logging facilities and log information
Against the risk of falsification or unauthorized access
203
A.12.4.3
Log in, protect and regularly review the activities of the system administrator
And the system operator
204
A.12.4.4
Synchronize the clocks of all information processing systems or a security domain
On a single time reference source
205
A.12.5.1
Apply software installation procedures
In order to control the installation on operational systems. Cf. sub-clause 7.5.1
206
A.12.6.1
Obtain timely information on technical vulnerabilities in operational information systems, evaluate exposure to these vulnerabilities and take appropriate action
In order to treat the associated risk. Cf. sub-clause 7.5.1
207
A.12.6.2
Establish and enforce rules governing the installation of software
Regarding users. Cf. sub-clause 7.5.1
208
A.12.7.1
Carefully plan and validate operational systems verification audit requirements and activities
In order to minimize the impact on business processes

A.13 Communications security

209
A.13.1.1
Manage and control networks
In order to protect the information of systems and applications. Cf. sub-clause 7.5.1
210
A.13.1.2
Identify and integrate network services, security mechanisms, service levels and management requirements into network service agreements
Services provided internally or outsourced
211
A.13.1.3
Segragate on networks the groups of information services and users
And information systems
212
A.13.2.1
Put in place formal transfer policies, procedures and controls
In order to protect information transfers passing through any type of equipment. Cf. sub-clause 7.5.1
213
A.13.2.2
Treat secure transfer of information in agreements
Between the organization and third parties
214
A.13.2.3
Protect information passing through electronic messaging
Appropriately
215
A.13.2.4
Identify, regularly review and document the requirements for confidentiality or non-disclosure agreements
In accordance with the needs of the organization. Cf. sub-clause 7.5.3

A.14 System acquisition, development and maintenance

216
A.14.1.1
Integrate information security requirements with the requirements of new information systems
Or during improvements to existing information systems
217
A.14.1.2
Protect information involved in application services transmitted over public networks
Against fraudulent activities, contractual differences, unauthorized disclosure and modification
218
A.14.1.3
Protect information involved in transactions related to application services
In order to prevent incomplete transmission, misrouting, modification and unauthorized disclosure and duplication of the message or its re-transmission
219
A.14.2.1
Establish and enforce software and systems development rules
To organizational developments
220
A.14.2.2
Control system changes as part of the development lifecycle
Through formal procedures. Cf. sub-clause 7.5.1. Reserved for internal development
221
A.14.2.3
Review and test business critical applications when changes are made to operational platforms
In order to verify the absence of adverse effects on activity and security
222
A.14.2.4
Discourage modifications to software packages, limit to necessary changes
And strictly control any change
223
A.14.2.5
Establish, document, maintain and apply principles for engineering secure systems
Concerning all the work of setting up information systems, cf. sub-clause 7.5.1
224
A.14.2.6
Establish secure development environments for system development and integration tasks and ensure appropriate protection
In relation to the entire system development lifecycle. Reserved for internal development
225
A.14.2.7
Supervise the activity of outsourced system development
And monitor it
226
A.14.2.8
Perform security functionality tests
During system development. Reserved for internal development
227
A.14.2.9
Determine acceptance testing programs and associated criteria for new information systems
Including updates and new versions
228
A.14.3.1
Select test data carefully
Also protect and control them

A.15 Supplier relationships

229
A.15.1.1
Have the supplier accept and document information security requirements
In order to limit the risks resulting from the access of suppliers to the assets of the organization, cf. sub-clause 7.5.1
230
A.15.1.2
Establish and agree with each supplier the relevant information security requirements
Regarding suppliers who can access, process, store, communicate or provide components of the IT infrastructure. Cf. sub-clause 7.5.1
231
A.15.1.3
Include in the agreements concluded with the supplier requirements on the treatment of information security risks
In relation to the supply chain of IT products and services
232
A.15.2.1
Monitor, review and audit service delivery at regular intervals
Provided by supplierss. Cf. sub-clause 7.5.1
233
A.15.2.2
Manage changes in supplier services taking into account the critical nature of the information, systems and processes involved and the risks
Services including the maintenance and improvement of information security policies, procedures and measures. Cf. sub-clause 7.5.1

A.16 Information security incident management

234
A.16.1.1
Establish, in the event of an information security incident, management responsibilities and procedures
In order to guarantee a rapid, efficient and relevant response. Cf. sub-clause 7.5.1
235
A.16.1.2
Report information security events as quickly as possible
This through appropriate hierarchical channels
236
A.16.1.3
Note and report any security weaknesses observed or suspected by employees and contractors
Using the organization's information systems and services
237
A.16.1.4
Assess information security events
And decide whether to classify them as an information security incident
238
A.16.1.5
Respond to information security incidents in accordance with the documented procedures
Cf. sub-clause 7.5.1
239
A.16.1.6
Use the knowledge gained from the analysis and resolution of incidents
To reduce the likelihood or impact of subsequent incidents
240
A.16.1.7
Define and apply procedures for identifying, collecting, acquiring and preservating information
Can be used as proof. List of evidence, cf. sub-clause 7.5.1

A.17 Business continuity management

241
A.17.1.1
Determine its information security and information security management continuity requirements
In unfavorable situations (crisis or disaster)
242
A.17.1.2
Establish, document, implement and maintain processes, procedures and controls
In order to provide the required level of information security continuity during an adverse situation, cf. sub-clause 7.5.1
243
A.17.1.3
Check the information security continuity controls put in place at regular intervals
In order to ensure that they are valid and effective in adverse situations
244
A.17.2.1
Set up information processing facilities with sufficient redundancies
In order to meet the availability requirements

A.18 Compliance

245
A.18.1.1
Explicitly define, document and update all legal, statutory, regulatory and contractual requirements for each information system and for the organization
As well as the approach adopted by the organization to meet these requirements. List of requirements, cf. sub-clause 7.5.1
246
A.18.1.2
Put in place appropriate procedures to ensure compliance with legal, regulatory and contractual requirements relating to intellectual property
And for the use of proprietary software licenses. Cf. sub-clause 7.5.1
247
A.18.1.3
Protect records from loss, destruction, falsification, unauthorized access and distribution
In accordance with legal, regulatory, contractual and business requirements
248
A.18.1.4
Guarantee the protection of privacy and personal data
In accordance with applicable legislation or regulations, and contractual clauses if applicable
249
A.18.1.5
Take cryptographic controls
In accordance with applicable agreements, laws and regulations. Cf. annex A.10
250
A.18.2.1
Perform regular and independent reviews of the internal approach to manage and apply information security
At defined intervals or following major changes. Cf. sub-clause 9.2
251
A.18.2.2
Regularly review, on the part of those responsible, the compliance of information processing and the procedures within their area of responsibility
In accordance with applicable security policies, standards and other security requirements. Cf. sub-clause 7.5.1
252
A.18.2.3
Regularly review information systems for compliance
With the organization's information security policies and standards