OXEBRIDGE Q001 Quality Management System Requirements
A user-friendly, open source remix of ISO 9001:2015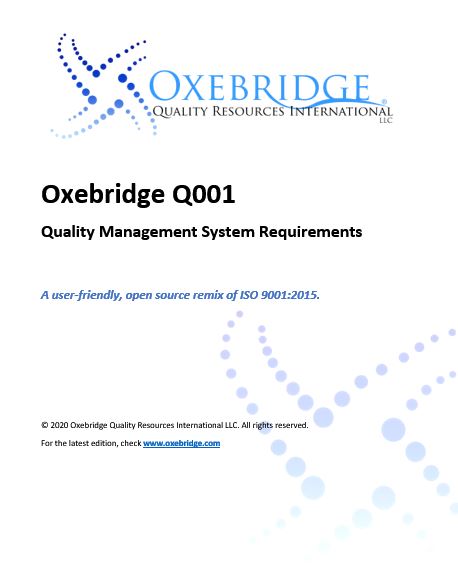 Standard offered by Oxebridge Quality Resources International (Christopher Paris)
The Oxebridge Q001 (pronounced "Q Thousand and One") standard is intended to be used by organizations seeking to implement a formal, documented quality management system that complies with ISO 9001 Quality Management Systems – Requirements.
Each organization will have its own rationale for doing so, including to meet customer requirements or to develop a quality system that allows for continual improvement; this standard is agnostic on such reasons, and attempts to satisfy all users, regardless of their rationale.
Download for free without inscription
32 pages
20 april 2020
In French
Other free documents:
OXEBRIDGE Q001 ISO 9001 CROSSWALK
OXEBRIDGE COMPLIANCE OPTIONS ACCEPTABLE EVIDENCE
OXEBRIDGE Q001 INTERNAL AUDIT CHECKLIST
WEBINAR FOR Q001 OXEBRIDGE OVERVIEW FOR USER ORGANIZATIONS
OXEBRIDGE ACCREDITATION PROGRAM

Organizations or individuals wishing to conduct official Q001 Certification Audits must be accredited to do so. Only Oxebridge can accredit such bodies, and Oxebridge disallows the issuance of Q001 certificates by any unaccredited, self-accredited or other party accredited bodies.
To apply for accreditation, click here.